Oklahoma City '89ers 5 Denver Bears 0
September 2, 1972 (Game 2)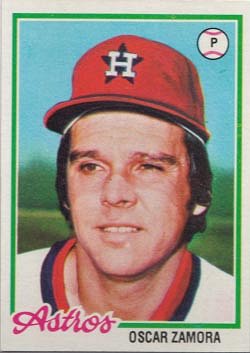 1978 Topps # 91
By Volsey Meece
In his 48th pitching performance of the season but first start, Oklahoma City right-hander Oscar Zamora stunned Denver with a perfect game performance in the seven-inning nightcap of a doubleheader Saturday night.
The 26-year old Cuban's eight-strikeout, 5-0 triumph netted the 89ers a split twinbill. The Bears nabbed the opener, 5-4, utilizing reliever Ramon De Los Santos' wildness and Dick Nen's double in the fifth frame.
Zamora, who had a 6 - 9 record and 3.67 earned run average entering the fray, struck out six of the first nine batters he faced. He got strikout victim No. 7 in the fourth and No. 8 in the fifth.
Only four balls were hit out of the infield against the fast-working Zamora, who had gone seven innings only once previously this season. That was during an 18-inning victory over Wichita, when he allowed four hits and no runs.
The only real threat to his no-hitter and perfect game was on the shortest ball the Bears hit all night in the game witnessed by only 771 fans.
Lennie Randle, leading off the seventh, punched a bunt bakc toward the mound. Zamora, slightly off balance, recovered and just nipped Randle at first.
Zamora then retired Pete McKanin on a popup to second and Steve Greenberg on a fly to right-center field.
The only other thing approaching a hard chance for 89er fielders was Ken Suarez' ground ball which third baseman Gus Gil had to get on the short hop, moving to his left, in the sixth.

Of the Randle bunt in the seventh, Zamora said, "I had in my mind he might bunt. I was not going to rush myself. I was going to get to the ball and make sure I didn't rush the throw. If I did, I might throw wild. It was close, but he was out."
Zamora, who said his fastball was his most effective pitch because he was getting it where he wanted it, readily admitted he knew he head the perfect game going.
"I really didn't worry about it," he said. "I just decided to go out and do my best. If I got, I got it. If I didn't, I didn't.
"In my mind, I wanted to get a shutout. I wanted to win my last game of the season and finish up strong. I haven't given up a run in close to a month."
Zamora said 89er teammates weren't talking about his feat in the dugout while it was in progress "but a couple of the Denver guys, everytime I came to the plate or went to the mound , would say, "Do you know you've got a no-no going?"
Manager Tony Pacheco gleefully inquired after the game, "You see how wrong I've been all year? My best pitcher and I've had him in the bullpen all year."
And Pacheco summed up Zamora's performance with "Ahead all the way. Good control. Wonderful."
Zamora got all the hitting support he needed in the first when Rafael Batista doubled in Greg Gross, who had singled, and Gary Sutherland, who had walked. Rich Chiles, Sutherlan, and Cliff Johnson drove in the other runs as Holdenville native Jackie Brown was the losing pitcher, his record dropping to 5 - 17.
| | | | | |
| --- | --- | --- | --- | --- |
| --- | --- | --- | --- | --- |
| Len Randle, 2b | 3 | 0 | 0 | 0 |
| Pete Mackanin, ss | 3 | 0 | 0 | 0 |
| Steve Greenberg, 3b | 3 | 0 | 0 | 0 |
| Jeff Burroughs, lf | 2 | 0 | 0 | 0 |
| Charles ("Cotton") Nash, 1b | 2 | 0 | 0 | 0 |
| Ron Pruitt, rf | 2 | 0 | 0 | 0 |
| Gary Ratliff, cf | 2 | 0 | 0 | 0 |
| Ken Suarez, c | 2 | 0 | 0 | 0 |
| Jackie Brown, p | 1 | 0 | 0 | 0 |
| Jim Driscoll, ph | 1 | 0 | 0 | 0 |
| Jim Miles, p | 0 | 0 | 0 | 0 |
| --- | --- | --- | --- | --- |
| Denver totals | 21 | 0 | 0 | 0 |
Oklahoma City '89ers
AB
R
H
RBI

---

---

---

---

---

Greg Gross, cf
4
0
1
1
Rich Chiles, lf
4
2
2
1
Gary Sutherland, 2b
1
1
1
1
Rafael Batista, rf
3
0
1
2
Cliff Johnson, 1b
3
0
1
1
Jay Schlueter, rf
0
0
0
0
Gus Gil, 3b
3
0
1
0
Fernando Tatis,ss
3
0
1
0
Otis Thornton, c
2
0
1
0
Oscar Zamora, p
3
1
0
0

---

---

---

---

---

Oklahoma City totals
26
5
9
5
1
2
3
4
5
6
7
R
H
E
Denver Bears
0
0
0
0
0
0
0
0
0
2
Oklahoma City '89ers
0
1
0
3
1
0
0
5
9
0