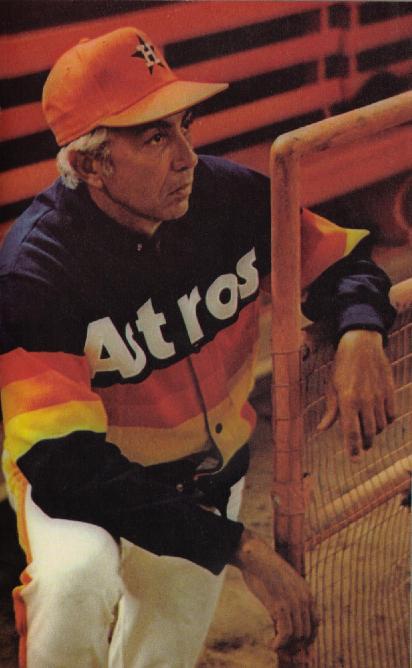 Tony Pacheco: Start 'Splainin'
Pacheco's Record As A Manager in the Astros' System
Club
League
Position
Won
Lost

---

1966 Bismarck-Mandan Pards
Northern
6th
16
47
1967 Covington Astros
Appalachian
4th
29
35
1968 Cocoa Astros
Florida State
2nd
74
65
1968 Covington Astros
Appalachian
2nd
39
32
1969 Peninsula Astros
Carolina
4th
67
76
1970 Cocoa Astros
Florida State
6th
43
84
1971 Cocoa Astros
Florida State
2nd
80
59
1972 Oklahoma City '89ers
American Assoc.
4th
57
83

After a seven-year minor-league career that saw him play in his home country of Cuba, Mexico, and his eventual home in Florida, Pacheco took his first managing job at Havana in 1959, replacing Napoleon Reyes for the Sugar Kings. But things were a little unsettled in the Cuban capital that year, and I guess Pacheco was glad to take a job in the States at Palatka for 1960. In 1961, he became an international scout with the new Colt .45 organization. He did that until 1966, when he was offered the job managing the Astros' new entry in the Northern League at Bismarck, North Dakota. He continued managing minor league teams for the 'Stros until 1973, when he jumped ship to the Indians and managed their San Antonio entry in the Texas League to a first place finish. He coached for the Cleveland club in '74, but by 1976, would return to the Astros organization as a coach for the big club. He would remain until 1982. Pacheco passed away five years later, in 1987.
Click here to go back to Astroland