Doug Rader, or The Red Rooster: A Brief History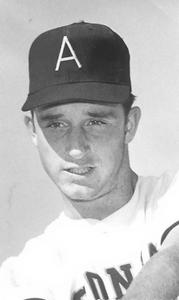 Signed as a free agent by the Astros prior to the 1965 season, Doug Rader attracted just enough notice for his 14 homers at Durham that year. The 14 jacks were second best on the team, despite his .209/.385/.307/.692 line.
But the redhead broke through at Amarillo the following year under manager Buddy Hancken. Rader led the Texas League in hits with 153, and finished fourth in both homers and RBI as he was named the circuit's All-Star third baseman.
Rader was doing just fine at Oklahoma City in '67 when the Astros called him up midseason, and he made his major league debut on July 31 at the Astrodome. Rader started at first vs. the Mets that night, and while Tal Smith's notes from the time are unavailable to me, it seems that to the Astros, who were in eighth place as they entered play that day, had decided to see if they might not be able to move the well-known Eddie Mathews for some value. Bob Aspromonte was having a good year, and anyway had been entrenched at third since the franchise debuted, and no prospect, no matter how well he was hitting at OKC, was going to take his job. The other side of the diamond was a different story, however, and GM Smith realized it.
As the 1967 Astros entered August, Mathews still had a better-than-league-average OPS, but his average and his slugging had been in a steady decline after a very strong start. Chuck Harrison wasn't much of an alternative, but Rader--who'd spent the first half of the PCL season establishing that 1966 had been no fluke for him--was.
As long as you weren't worried none about playing a third baseman at first, that is.
Rader was hitting .382/.389/.529/.918, and had made four of his six starts at first, on August 17, when the club announced it had traded Mathews to the Tigers for Fred Gladding.
| | |
| --- | --- |
| 1968 Topps # 332 | 1972 Topps # 536 |
In 1968, Rader would start more games at third than Aspromonte, who struggled with the bat while seeing significant time in the outfield. Although he finished seventh on the team in at-bats, Rader would finish second on the club to only Jim Wynn in bases. After the 1968 season, it was Aspromonte who would be traded.
| | |
| --- | --- |
| 1972 Kellogg's # 14 | 2006 Fleer Nickname Greats # NG-RA |
For each of the next six seasons, Rader would play at least 135 games at third, and he ended up holding down the third base positionfor Houston in much the same way Aspro had before him. Although Rader did not sustain his early offensive excellence, he became known as an excellent defensive third baseman who could unleash occasional thunder with the stick.
On April 3, 1970, during an exhibition game at the Astrodome against the Yankees, Rader became the first player to have ever reached the fourth deck Gold level at the Dome with a batted ball. When Jimmy Wynn duplicated the feat in the season's third game, each player had a logo painted upon the left-field seat he'd hit: Wynn got a cannon, and Rader, a rooster.
Rader had his best offensive season in '70, establishing career highs in homers, runs, RBIs, at bats, and slugging. The homers that year totalled 25, and to this day, Rader and Morgan Ensberg are the only two third-sackers in team history to total 25 or more homers in a single season.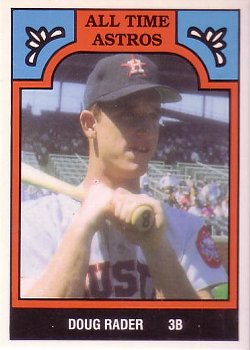 1986 TCMA All-Time Astros # 4-AST
Also in 1970, Rader became the first Houston player to win a Gold Glove. He repeated each year through 1974, and is thus one of only two Astros to have won five Gold Gloves, Cesar Cedeno being the other. Rader also remains the only Astro third baseman to have ever won the defensive hardware (though obviously the Caminiti of 1991 - 1993 should have).
As I write in early 2008, only 31 players in team history have ever gotten 400 AB's in a season for the Astros, while OBPing under .300. In 1975, Rader became one of those players, and shortly after the season, Tal Smith (back in charge after the disastrous Spec Richardson regime was toppled) traded the Red Rooster to San Diego for two nonentities by the names of Larry Hardy and Joe Mcintosh . For Smith, it wasn't as smart a move as the one that had brought Rader into the bigs, but it wasn't terrible either. Rader spent a slightly-better-than-average year and a half with the Pads, then was sold to Toronto, who cut him in the Spring of '78.
By that time the Astros had gone to Enos Cabell, who would score 100 runs and steal 42 bases and set a team record still unbroken with 660 AB's that year, and who would hold down the third baseman's job until the next guy came along--just like Rader had done, and like Aspromonte had before him.
Rader was already being called a wild man by the time Ball Four was published in 1970, and as the seventies swelled and matured, Rader made sure to let his hair grow longer and to make ridiculous statements about eating baseball cards or whatever else to reporters. Later, he would try to jettison the wacky image when trying to manage the Angels. I'm suspicious of people who put on different faces for different audiences, so I'll take it easy on the wacky stories most people tell when the name Doug Rader comes up.
The fact that he was the best--and most consistent--third baseman in Astro history will have to be enough to bring this one home.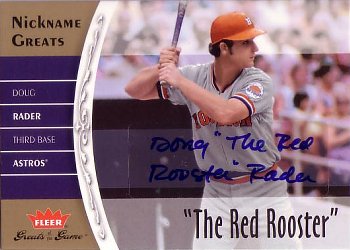 2006 Fleer Nickname Greats Autograph # NG-RA