Brian Powell Throws the Fifth AAA No-Hitter in Astros Organizational History

New Orleans Zephyrs
5
Omaha Golden Spikes
0

May 6, 2001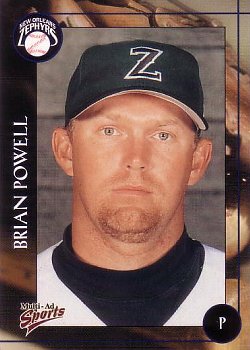 2001 Multi Ad New Orleans Zephyrs # 17
Powell Throws First No-Hitter for New Orleans at Zephyr Field

by Jimmy Smith
Times-Picayune Staff writer

As the innings went along, and the zeroes stretched into the fifth, sixth, seventh, and eighth, Zephyrs pitcher Brian Powell felt like an outcast.

"Everyone just got further and further away from me," Powell said of the tradition of not speaking to a pitcher during a no-hitter. "Finally, I had to ask (pitching coach Jim) Hickey a question just so I wouldn't feel so dad-gum alone."

When Omaha second baseman Alejandro Prieto grounded out to first base for the game's last out Sunday, the New Orleans players reintroduced themselves to Powell after the 27-year-old right-hander had thrown the first no-hitter at Zephyr Field and the first of Powell's career, winning 5 - 0.

Powell, utilizing a cut fastball that induced 19 ground ball outs, faced two hitters above the minimum and pitched perfect ball through 5-2/3 innings. The closest Omaha came to a hit was with two outs in the eighth inning when Pat Hallmark hit a two-hopper to Zephyrs shortstop Adam Everett. Everett's throw to short was slightly wide, but would have beaten Hallmark to the bag.

First-base umpire Charlie Williams, a major-league umpire on a rehab assignment to stengthen a surgically repaired left knee, called Hallmark safe. An error was charged to first baseman Kevin Burns, who appeared to pull his foot off the bag too soon.

"The throw obviously beat him," Powell said, "so I guess he pulled his foot off early. It was a tough call."

The only other Golden Spike to reach was Nick Ortiz, when Everett mishandled a grounder with two outs in the sxth.

Omaha hit only four balls out of the infield--two line drives, a fly to right field, and a fly to left. Catcher Raul Chavez caught a foul pop for the third out in the seventh, and Powell struck out two. He walked none.

Z's second baseman Mendy Lopez kept the no-hitter alive in the ninth, ranging to his left to glove Nick ortiz' roller up the middle and throwing to Burns for the out.

"I dove for that one,"Powell said. "I thought it was up the middle. It was a great play."

Powell got the offensive support he needed with a run in the second on an RBI single by Scott Lydy, and two in the fifth, including the first AAA home run by Colin Porter, and two runs in the eighth.

Powell made it to the major leagues in August last season after starting in New Orleans following 1999 arthroscopic shoulder surgery. The only other Zephyrs no-hitter in New Orleans was on August 12, 1994, when Scott Taylor no-hit the Buffalo Bisons at Privateer Park.

"(Powell) mixed his pitches real well today," said Z's manager Tony Peña. "I tell you waht: Brian's really been fighting. He's been fighting for the last couple years to come through. He's pitching well right now."

Omaha manager John Mizerock didn't have an opinion one way or another on whether Hallmark reached on a hit or an error.

No hit, one hit, same result for us," Mizerock said. "Tony Peña gave credit to Chris George on Saturday (in a six-inning, one-hit effort); we'll give credit to their guy today. What was his name?">

All Mizerock had to do was ask Powell's parents, in town from Bainbridge, Ga., in hopes of seeing their son pitch, and among the 6,080 in attendance Sunday. The Z's starting rotation had been in a state of flux since Friday night when Roy Oswalt was promoted to the Astros.

"Today was my day," Powell said. "Tony McKnight got rained out, and they thought about giving him an extra day and pitching me on Monday. Then I told them my parents were coming to town.

So they said, "We'll just have syou start today.' So if I would have gotten pushed back, they wouldn't have been here. So that makes it great. I really can't wait to talk to them."
1
2
3
4
5
6
7
8
9
R
H
E
Omaha
0
0
0
0
0
0
0
0
0
0
0
0
New Orleans
0
1
0
0
2
0
0
2
x
0
2
2
Omaha Golden Spikes
AB
R
H
RBI

---

---

---

---

---

Pat Watkins, CF
4
0
0
0
Alex Prieto, 2B
4
0
0
0
Jeff Berblinger, 3B
3
0
0
0
Kit Pellow, DH
3
0
0
0
Craig F. Wilson, 1B
3
0
0
0
Jon Nunnally, RF
3
0
0
0
Pat Hallmark, LF
3
0
0
0
Cesar King, C
3
0
0
0
Nick Ortiz, SS
0
0
0
0

---

---

---

---

---

Omaha totals
29
0
0
0
E- Everett, Burns
LOB- Omaha 2, New Orleans 9
2B - Lopez, Lydy
3B - Lopez
HR - Porter (1)
CS - Everett

Omaha Golden Spikes
IP
H
R
ER
BB
K

---

---

---

---

---

---

---

Kris Wilson (L, 0 - 1)
3
5
1
1
0
2
Jeff M. D'Amico
2
4
2
2
1
2
Dan Murray
3
3
2
2
2
1
New Orleans Zephyrs
IP
H
R
ER
BB
K

---

---

---

---

---

---

---

Brian Powell (W, 2 - 1)
9
0
0
0
0
2
Time - 2:20
Attendance - 6,080
After an All-American college career at the University of Georgia, during which he was named to pitch for Team USA, Brian Powell was selected in the second round of the 1995 draft by the Detroit Tigers. After making his major league debut in June of 1998, and pitching less than successfully for Detroit the rest of that season, the 6'2" righthander from Bainbridge, GA was traded with others to the Astros for CJ Nitkowski and Brad Ausmus on January 14, 1999. Included in the haul with Powell for the Astros were Paul Bako, Dean Crow, Mark Persails, and Carlos Villalobos.

Powell was limited to only nine starts at New Orleans in 1999, being shut down for arthroscopic shoulder surgery on May 24th after giving up eight runs over 3-2/3 innings to the same Omaha Golden Spikes he would later no-hit. The surgery forced him to miss the first three weeks of the 2000 season, but after he returned, he won nine of 18 games and threw 100 innings as a starter for the Zephyrs. He was rewarded with a callup on August 1st, when Shane Reynolds was placed on the disabled list with degenerative disks in his lower back.

Powell made his Astros debut on August 3 of 2000 at Florida, pitching six innings while giving up 3 runs and nine hits in a game ultimately lost by the Astros. He made his next start on August 8 in Houston, and beat the Mets 9 - 3, becoming the first Astros pitcher to win his first start at what was then known as Enron Field.

The righthander made three more starts for the Astros in 2000, losing the last on August 28, then moved to the bullpen where he made four appearances, managing a win with no losses and no saves. Overall, Brian Powell was 2 - 1 with a 5.74 for the Astros in 2000. And if that ERA seems high, it is. But keep in mind that Astros starters posted a 5.18 ERA in 2000, and that their relievers posted a 5.52.

Powell was re-signed for 2001, placed on the 40-man roster and assigned to New Orleans again. Though he would end the year in the number 2 slot for the Z's, he began it as the Zephyrs' fifth starter after McKnight, Travis Driskill, Roy Oswalt, and Shane Reynolds (who made a rehab start on April 8).

It took Powell a little while to get going:
Brian Powell in the Starts Leading Up to His May 6 No-Hitter

| | | | | | | | | | |
| --- | --- | --- | --- | --- | --- | --- | --- | --- | --- |
| Apr 9 | vs SLC | (L,0-1) | 6 | 8 | 3 | 3 | 2 | 6 | 0 |
| Apr 14 | at CSP | -- | 4 | 6 | 6 | 2 | 4 | 3 | 2 |
| Apr 20 | at SLC | -- | 6 | 7 | 6 | 6 | 0 | 3 | 1 |
| Apr 26 | at Omaha | -- | 7 | 4 | 1 | 0 | 0 | 4 | 0 |
| May 1 | at Iowa | (W,1-1) | 7 | 6 | 2 | 1 | 0 | 5 | 1 |
But he certainly turned heads with his effort on the 6th. In addition to being the first no-hitter pitched by a Zephyr at Zephyr Field, and only the fifth Triple A no-hitter in Houston organizational history, Powell's performance was also the first nine-inning no-hitter pitched in the PCL in nearly five years.

But while the no-hitter chronicled here was obviously the highlight of Powell's 2001 AAA campaign, he was solid for New Orleans the whole year through. Two starts after the no-hitter, on May 18 at Memphis, Powell would pitch his second complete game shutout of the year, and he would add another seven-inning complete game at home vs. Tucson in July. The two complete game shutouts would tie for the PCL lead.

Powell won 9 games for the eventual PCL co-champs, and posted a 3.17 ERA. Powell was purchased from New Orleans by the Astros on August 11th following the designation of Mendy Lopez, and he made the start that afternoon at Florida.

It was a game that your kind narrator himself attended, and he is here to tell you that Powell was absolutely ineffectual, and had nothing at all. Powell was removed after 3 innings, having given up 5 runs on 6 hits including a homer.

The Astros would go on to lose 13 - 5, and Powell was outrighted back to New Orleans on the 15th, when Carlos Hernandez was recalled from Round Rock.

Powell finished the year with New Orleans, and was given the nod to start Game Two of their Divisional Series playoff against the Iowa Cubs. In it, Powell was once again superlative for the Z's, as he pitched 7 innings of 5-hit scoreless ball and won for the 23rd and final time in a Zephyrs uniform.

The Astros granted Powell his free agency on October 8 of 2001, but the game he pitched for them in May remains significant: it is still as I write (in early 2008) both the last time any one pitcher in the Astros chain--major OR minor league--had twirled a no-hitter, and the last time a New Orleans Zephyr had.
OUT BY OUT BY OUT
FIRST INNING
Pat Watkins struck out swinging
Alejandro Prieto flew out to right
Jeff Berblinger grounded out to short
SECOND INNING

Kit Pellow grounded to short
Craig F Wilson grounded to short
Jon Nunnally popped out to third
THIRD INNING

Pat Hallmark flied to right
Cesar King grounded to second
Berblinger grounded to second
FOURTH INNING

Watkins grounded to short
Prieto grounded to short
Berblinger grounded to second
FIFTH INNING

Pellow grounded to third
Wilson grounded to pitcher
Nunnally grounded to second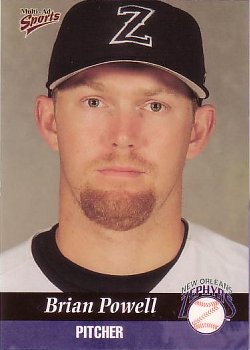 1999 Multi Ad New Orleans Zephyrs # 14
SIXTH INNING
Hallmark grounded to short
King grounded to short
Ortiz reached on Everett's error
Watkins grounded to short
SEVENTH INNING

Prieto grounded to first
Berblinger grounded to second
Pellow foul pop out to catcher
EIGHTH INNING

Wilson grounded to pitcher
Nunnally grounded to second
Hallmark reached on Burns' error
King popped out to right
NINTH INNING

Ortiz grounded to second
Watkins popped to left
Prieto grounded to first
Sources:
New Orleans Times-Picayune, May 7, 2001
Various USA Today webpages disconnected from their current site but never taken down: