JR Phillips Hits Four Homers in a Seven-Inning Game
| | |
| --- | --- |
| Omaha Royals | 6 |

May 21, 1997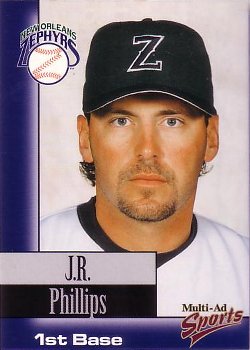 1998 Multi Ad New Orleans Zephyrs # 17
Phillips' Four Homers Overcome Omaha

Power Show Nails Sweep

New Orleans Times-Picayune staff reports


---

JR Phillips wasn't happy about sitting out his first game of the season.

So he took it out on the Omaha Royals in the second game, hitting four consecutive home runs and totaling seven RBIs as the New Orleans Zephyrs completed an 8 - 5, 10 - 6 sweep of Wednesday's doubleheader in Rosenblatt Stadium at Omaha, Neb.

"Matty (Manager Matt Galante made me angry by giving me a (game) off," said Phillips, laughing. "I guess I had to take it out on somebody."

He took it out on Royals starter Brian Bevil (twice) and relievers Toby Smith (1 - 3) and Jamie Brewington.

"I've never had one like this," Phillips said. "I've had a couple of two home-run games. That was it."

Phillips' feat, which tied an American Associuation record shared by three others, impressed Galante, who spent the last 12 years as a coach with the Houston Astros.

I mean, it was just an awesome display of hitting," said Galante. "I've never seen anything close to this.

"Those homer runs were not wind-blown, I'll tell you that right now. Those balls were hit, all four of them. The last one was the longest one because it was to deep right center. There was no doubt when it left the bat that it was No. 4."

The sweep extended the Zephyrs' winning streak to four and moved them into first place in the Western Division.

Phillips hit a split-finger fastball from Bevil to right-center in the second. Bevil tried to get a fastball by him in the third, and that went over the wall in left-center.

He hit No. 3 on a changeup from Smith to right center to put the Z's ahead. Brewington tried to challenge him with a first-pitch fastball in the sixth, and that went out to right-center.

"My third at-bat, they threw me a fastball low and inside, and I was a little bit late on it," he said. "So I was kind of looking for it a little bit to see if (Brewington) would try and come back with that pitch."

Before Phillips wrecked things, the Royals took a 4 - 0 lead in the first against Z's starter Mike Gardiner (1 - 1) on a bad-hop, two-run single by Chris Stynes and Jon Nunnally's two-run homer. Gardiner allowed one hit until the sixth, when Yamil Benitez hit a two-run homer.

By then, Phillips had gotten help. Alan Probst had a two-run double during the Z's four-run fifth. Ray Montgomery homered in the seventh.

In the first game, Blas Minor pitched out of a bases-loaded jam in the ninth to earn his fourth save.
Omaha Royals
AB
R
H
RBI

---

---

---

---

---

Felix Martinez, SS
4
1
2
0
Pork Chop Pough, 3B
4
1
1
0
Chris Stynes, DH
3
1
1
1
Larry Sutton, 1B
3
0
1
1
Ryan Long, RF c
3
1
1
0
Jon Nunnally, CF
3
1
2
2
Yamil Benitez, LF
3
1
1
2
Hector Ortiz, C
3
0
0
0
Jed Hansen, 2B
0
0
0
0

---

---

---

---

---

Omaha totals
29
6
9
6
1
2
3
4
5
6
7
R
H
E
New Orleans
0
1
2
0
4
2
1
10
12
0
Omaha
4
0
0
0
0
2
0
6
9
2
E - Martinez 2
DP - New Orleans 1
LOB- New Orleans 6 Omaha 2
2B - Haney (6), Mora (5), Probst (2), Nunnally (6)
HR - Phillips 4 (12), Montgomery (3), Nunnally (8), Benitez (5)
New Orleans Zephyrs
IP
H
R
ER
BB
K

---

---

---

---

---

---

---

Mike Gardiner (W, 1- 1)
6-0/3
9
6
6
0
4
Jose Cabrera
1-0/3
0
0
0
0
1
Omaha Royals
IP
H
R
ER
BB
K

---

---

---

---

---

---

---

Brian Bevil
3-0/3
3
3
3
1
7
Ken Patterson
1-0/3
2
0
0
0
2
Toby Smith (L, 1 - 3)
0-1/3
2
4
4
2
0
Jamie Brewington
1-2/3
3
2
2
0
2
Mike Perez
1-0/3
2
1
1
0
1

WP- Brewington
Time - 2:16
Attendance - 4,990

Phillips spent three and a half seasons in the Astros organization, signing a pair of one year contracts in 1997 and 1998, then leaving the organization and coming back for a half-year more when he was purchased from the White Sox in July of 2000, then finally ending his career with the Houston organization. As had Jim Lindeman before him, and as Jack Howell would after him, Phillips represented to the Astros a veteran presence that they might turn to just in case Jeff Bagwell got hurt.

And indeed, Phillips' game high with the Astros came in 1998, when he played 36 games for Houston, some of them during the two-week period in May when Bagwell missed 15 games because of a severe laceration to his knee.

But sadly, Phillips didn't distinguish himself during any of his callups to Houston, and he spent most of his tenure in the Astros organization at AAA New Orleans. His 2000 Multi Ad card for the Z's says flatly that Phillips was "one of the most popular players in Zephyrs history," and even if that is not true, there is no denying that nobody at New Orleans during the years in which the team was an Astros affiliate hit more homers, or drove in more runs.

Phillips was not offered a contract by the Astros for the 1999 season, and he instead took a job with the the Rockies' organization. Playing mostly at AAA Colorado Springs, Phillips led minor league baseball in home runs that year with 41, but was unimpressive in 25 major league games with the Rockies. The Rockies let Phillips walk as the Astros had, and he signed with the White Sox for 2000.

But he only hit .219 for the White Sox at AAA Charlotte, and Chicago sold him to Houston in June. He stepped his numbers up at New Orleans, but the Astros, getting great seasons from Bagwell and Hidalgo, and with Lance Berkman now in the mix, had no need for a slugging first baseman/outfielder, and Phillips did not add to his major league service time with the Astros in 2000.

Phillips played in Korea in 2001, in Mexico for 2002, and after not playing at all in 2004, finished his playing career with the Astros' AAA Round Rock and AA Corpus Christi affiliates in 2005. All told, Phillips hit 67 homers at any level within the Astros organization, with 216 RBI and 66 doubles.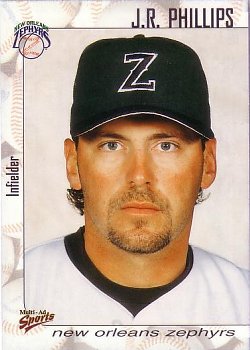 2000 Multi Ad New Orleans Zephyrs # 29
Source & ©: The New Orleans Times-Picayune, May 22, 1997
Click here to go back to Astroland