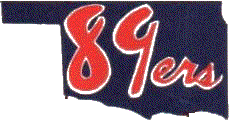 Jerry Yields Tainted Run, Wins 10th Straight, 9 - 1
Oklahoma City '89ers 9 Salt Lake City Bees 1
August 23, 1963
1
2
3
4
5
6
7
8
9
R
H
E
Salt Lake City Bees
0
0
0
0
1
0
0
0
0
1
0
1
Oklahoma City '89ers
3
1
3
0
2
0
0
0
x
9
17
1
by John Cronley

Right-hander Jerry Nelson, who had been dabbling about merely on the spectacular side as the 89ers' meal ticket, soared to pitching perfection here Friday night, fashioning the first no-hitter of the Pacific Coast League season as Salt Lake City was bombed, 9 - 1, in the home stand opener.
Recording his 10th straight triumph for Oklahoma City's Southern Division leaders, now in front of Dallas-Fort Worth and San Diego by 4-1/2 games. The 29-year old Nelson, using only 86 pitches in his masterpiece, carried on a strong flirtation with an even greater classic.
[The] only base runners against Nelson, now owner of a gleaming 13 - 5 record, came through two walks, one of which was followed by an error which put in position the Bees' lone score in the fourth inning.
This was unearned, of course, and the other, of course, and the other base on balls was drawnby pinch-hitter Don Eaddy in the ninth, when Nelson struggled a bit on two full counts.
In the same round, he needed a good play by George Williams at third on Jesse White's slow hopper, and earlier three finerunningplays inthe outfield were helpful. Nelson struck out six.
Only six outfield flies were hit by the losers, none of those coming during a three and one-third inning stretch in the middle frames.

Nelson wasn't content tolimit himself to pitching heroics, figuring in Oklahoma City's lusty 17-hit onslaught against left-handers Dick LeMay and Wayne Carlander witha double and a single for a 2-for-3 game while scoring once.
It was one of the 89ers' heaviest attacks of the season as they poled at least onbe hit inevery inning but the eighth. All nine men in the lineup landed safely at least once.
Williams maintained hishothittinggait. He took the club's home run lead with his 16th, which opened the City's scoring spree as lead off man in the 89er first.
Williams slugged in three runsandfive of his teammates came through with two blows each.
In numerous previous games, southpaws had been anathema to the Cityans, but onthishistoric occasion they freely clubbed the two Bee moundsmen.
Starter LeMay departed with none out in the third inning, charged with a 6-0 deficit. Nor was successor Carlander any puzzle, but he escaped with only three runs scored off him.
The kids night crowd of 4,976, including 3,472 paid admissions, cheered Nelson on throughthe last three innings. Some ofthefansspilled onto the field in quest of autographs after the89ers all but carried Jerry off the field.
The teams resume the series at 6 p.m. Saturday in a double-header. [Continued Below]
---
Salt Lake City Bees
AB
R
H
RBI

---

---

---

---

---

Jesse White, 3b
3
1
0
0
Jimmy Stewart, ss
4
0
0
0
Don Davis, 1b
2
0
0
1
Bob Will, lf
3
0
0
0
Bill Cowan, cf
3
0
0
0
Ken Aspromonte, 2b
3
0
0
0
Bill Ott, rf
3
0
0
0
Cuno Barragan, c
3
0
0
0
Dick LeMay, p
1
0
0
0
Wayne Carlander, p
1
0
0
0
Don Eaddy, ph
0
0
0
0

---

---

---

---

---

Salt Lake City totals
26
1
0
1
Oklahoma City '89ers
AB
R
H
RBI

---

---

---

---

---

George Williams, 3b
5
2
4
3
Glenn Vaughan, ss
5
0
2
2
Carroll Hardy, rf
4
1
2
0
Dave L Roberts, 1b
3
2
2
1
Jim Campbell, c
5
1
1
1
Al Heist, cf
5
0
2
0
Danny Murphy, lf
5
0
1
0
Jim Mahoney, 2b
4
2
1
1
Gerald Nelson, p
3
1
2
0

---

---

---

---

---

Oklahoma City totals
39
9
17
9