Lexington Herald-Leader April 19, 2002

GERMAN'S HOMERS FUEL LEGENDS' WIN
Mark Maloney, Herald-Leader Staff Writer


Did your lights flicker last night?

Could be from the power surge at Applebee's Park, where the Lexington Legends cranked six home runs en route to a 12-7 pounding of the Lakewood BlueClaws. The six homers matched the South Atlantic League record. Ramon German led the way with a team-record three round-trippers, one shy of the league record.

Anthony Acevedo, Charlton Jimerson and Hector Gimenez also homered for the Legends, who won their third straight game, and for the first time in five home games.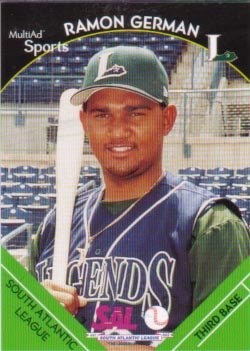 2002 Multi-Ad SAL Top Prospects # 13

The teams combined for 14 extra-base hits -- eight by Lexington, six by Lakewood. The BlueClaws also briefly played long ball, with Rod Perry and Erick Rivera jacking fifth-inning homers. Other than that spurt, starter Jimmy Barrett (1-1) was impressive, retiring the first nine batters in order. Barrett went seven innings, giving up five runs, four earned, on five hits. He struck out seven and walked one.

Mike Gallo and Francisco Pena each worked an inning in relief. Lakeside starter Taft Cable (1-2) surrendered four homers. Jason Bernard gave up two.

German opened the power parade with a first-inning two-run homer to dead center, estimated at 415 feet. The Legends added a run in the second, and Acevedo led off the third with a homer onto the awning of the right-field deck for a 4-0 lead.

Danny Gonzalez doubled in a Lakewood run in the fourth. In the fifth, Perry hit a solo shot to left, and an error and a walk set the table for Rivera's three-run homer to to left.

Now trailing 5-4, the Legends broke back on top in the bottom of the fifth. Singles by Gavin Wright and Acevedo brought German to the plate. This time El Oso -- Spanish for The Bear -- went deep to left, an estimated 388 feet, for a 7-5 lead. Two outs later, Jimerson lined his second homer of the year to left.

The Legends made it 10-5 with sixth-inning solo homers to center by German and Gimenez. German went first, an estimated 440 feet, off the scoreboard. Gimenez measured in at 433 feet. Lakeside touched up Gallo for a run in the eighth and Pena for a run in the ninth. The Legends scored twice in the eighth, with Jon Helquist and Aneudi Cuevas each getting an RBI.
---
April 18, 2002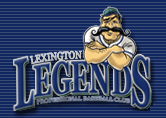 Lakewood BlueClaws
AB
R
H
RBI

---

---

---

---

---

Erick Rivera RF
3
3
2
3
Danny Gonzalez, SS
4
0
2
1
Jeff Phelps, 3B
4
0
0
0
Ryan Howard, 1B
4
0
2
1
Antonio Cancio, DH
4
0
0
0
Scott Youngbauer, 2B
4
1
1
0
Rod Perry, LF
4
1
1
1
Daniel Tosca, C
4
1
0
0
Andre Marshall, CF
3
1
0
0
Taft Cable, P
0
0
0
0
Jason Bernard P
0
0
0
0

---

---

---

---

---

Lakewood totals
34
7
8
6
| | | | | |
| --- | --- | --- | --- | --- |
| --- | --- | --- | --- | --- |
| Brandon Caraway, DH | 6 | 0 | 0 | 1 |
| Gavin Wright, RF | 5 | 1 | 1 | 0 |
| Anthony Acevedo, LF | 5 | 3 | 3 | 1 |
| Ramon German, 3B | 5 | 3 | 3 | 6 |
| Hector Gimenez, C | 5 | 2 | 2 | 1 |
| Brian Schmitt, 1B | 4 | 1 | 1 | 0 |
| Charlton Jimerson, CF | 3 | 1 | 2 | 1 |
| Jon Helquist, 2B | 5 | 1 | 2 | 1 |
| Aneudi Cuevas, SS | 5 | 0 | 2 | 1 |
| Jimmy Barrett, P | 0 | 0 | 0 | 0 |
| Mike Gallo, P | 0 | 0 | 0 | 0 |
| Francisco Peña, P | 0 | 0 | 0 | 0 |
| --- | --- | --- | --- | --- |
| Lexington totals | 43 | 12 | 16 | 12 |
1
2
3
4
5
6
7
8
9
R
H
E
Lakewood Blueclaws
0
0
0
1
4
0
0
1
1
7
8
2
Lexington Legends
2
1
1
0
4
2
0
2
X
12
16
1
E - Phelps, Youngbauer, Helquist.
DP - Lakewood 0, Lexington 2.
LOB- Lakewood 2, Lexington 10.
2B - D.Gonzalez (1), R.Howard 2 (3), S.Youngbauer (4),
Gimenez (1), Cuevas (2).
HR - E.Rivera (1), R.Perry (1),
Acevedo (3), German 3 (6), Gimenez (1), Jimerson (2).
SB - Jimerson (5).
HBP-(by Bernard) Schmitt
Lakewood BlueClaws
IP
H
R
ER
BB
K

---

---

---

---

---

---

---

Taft Cable (L,1-2)
5.0
12
8
7
0
2
Jason Bernard
3.0
4
4
2
2
2
Lexington Legends
IP
H
R
ER
BB
K

---

---

---

---

---

---

---

Jimmy Barrett (W,1-1)
7.0
5
5
4
1
7
Mike Gallo
1.0
2
1
1
1
0
Francisco Peña
1.0
1
1
1
0
1
WP - Barrett, Pena.
Time - 2:39
Attendance - 6587
---
Sources: © April 20, 2002 Online Lexington Herald-Leader
and http://www.lakewoodblueclaws.com
Thanks to Laura from the Lexington Legends chatroom