Eleno Cuen Gets His No-Hitter
Cocoa Astros 2 Orlando Twins 0
Game Two
August 13, 1972
"Cuen, an 18-year old phenom form Cocorit, Mexico, fired a no-hit 2-0 shutout in the second game. . .
"Yes I knew I had a no-hitter going all the time," exclaimed the jubilant rightander later. "I guess I was nervous in the seventh when I walked that guy."
Cuen was called up from the East Coast Rookie League about six weeks ago and since then has compiled a 6 - 1 mark with the Astros. In Sunday's masterpiece, he walked five and struck out the same number.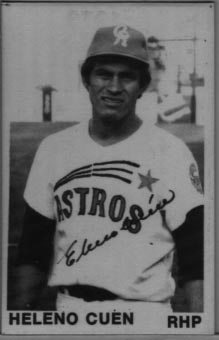 1973 Cedar Rapids Astros Unnumbered
In the last inning, the seventh, he walked the first batter and almost lost the no-hitter when Marty Braun laced a drive to the left field corner. But Bob Blakley came up with a running, over-the-shoulder catch, and Mike Baier grounded to Neil Rasmussen at shortstop to end the game.
I got all three outs in the seventh on changeups," siad Cuen."I was mixing my pitches real well, and everything was working.""
---
| | | | | |
| --- | --- | --- | --- | --- |
| --- | --- | --- | --- | --- |
| Jackson Sexton, lf | 2 | 0 | 0 | 0 |
| John Brooks, rf | 1 | 0 | 0 | 0 |
| Ed Palat, cf | 2 | 0 | 0 | 0 |
| Mike Poepping, 1b | 3 | 0 | 0 | 0 |
| John Hasbrouck, c | 2 | 0 | 0 | 0 |
| Tom Hanegan, 2b | 3 | 0 | 0 | 0 |
| Martin Braun, 3b | 3 | 0 | 0 | 0 |
| Mike Baier, ss | 3 | 0 | 0 | 0 |
| Bill Stiegemeier, p | 2 | 0 | 0 | 0 |
| --- | --- | --- | --- | --- |
| Orlando totals | 21 | 0 | 0 | 0 |
| | | | | |
| --- | --- | --- | --- | --- |
| --- | --- | --- | --- | --- |
| Alberto Leaver, cf | 3 | 1 | 1 | 0 |
| Art Gardner, rf | 3 | 1 | 2 | 1 |
| Tom Wise, 3b | 2 | 0 | 0 | 0 |
| Bob Blakley, lf | 3 | 0 | 1 | 1 |
| John McRae, 1b | 2 | 0 | 0 | 0 |
| Jose Salas, c | 1 | 0 | 0 | 0 |
| Neil Rasmussen, ss | 2 | 0 | 0 | 0 |
| Alton Williams, 2b | 2 | 0 | 0 | 0 |
| Eleno Cuen, p | 2 | 0 | 0 | 0 |
| --- | --- | --- | --- | --- |
| Cocoa totals | 20 | 2 | 4 | 2 |
1
2
3
4
5
6
7
Orlando Twins
0
0
0
0
0
0
0
Cocoa Astros
1
0
0
1
0
0
0
LOB- Orlando 5 Cocoa 2
2B - Gardner, Blakley
S - Wise

Orlando
IP
H
R
ER
BB
K

---

---

---

---

---

---

---

Bill Stiegemeier (L, 2 - 1?)
6
4
2
2
1
4
Cocoa
IP
H
R
ER
BB
K

---

---

---

---

---

---

---

Eleno Cuen (W, 6 - 1)
7
0
0
0
5
5
Time - 1:28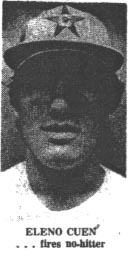 ---
Source: Florida Today, August 14, 1972
Thank you to those at the Melbourne, FL Public Library
Click here to close out