Dave Aloi No-Hits the Bristol Tigers

Covington Astros 6 Bristol Tigers 0
August 22, 1973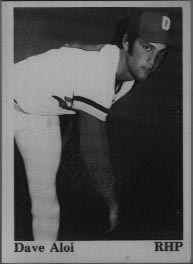 A few interesting notes about this one; foremost being I guess that Aloi was not yet eighteen when he pitched this game. He would turn 18 on October 3. The no-hitter was not only his greatest victory as a professional, it was also his first. The Covington Virginian, in its article the following day, quoted Aloi as saying on the postgame radio show (!) that he had actually pitched a perfect game earlier in the year before the Astros had signed him out of American Legion ball.

The following year, Aloi was 3 - 6 with a 3.97 for the Midwest League Dubuque Packers, but would then lead the Midwest League in ERA for the Packers in 1975 with a 1.69. Aloi kinda stalled out at AA Columbus over the following three years, with losing records despite solid if not spectacular ERA's. In '78, he reached his high water point when he pitched briefly for AAA Charleston, after going 5- 1 with a 3.25 at Columbus. He closed out his career in the Mexican League in 1979, and ended up with a lifetime 34 - 50 record.
Bristol Tigers
AB
R
H
RBI

---

---

---

---

---

Fred Austin, 3b
4
0
0
0
Jose Centeno, 1b
3
0
0
0
Tom Thompson, ss
3
0
0
0
Gary Stoller, c
3
0
0
0
Ken Gregory, rf
3
0
0
0
Ron Jones, cf
3
0
0
0
Humberto Pages, lf
3
0
0
0
Lloyd Sprockett, 2b
3
0
0
0
Bill Madden, p
0
0
0
0
Steve Mullins, p
2
0
0
0
Fred Swanson, ph
0
0
0
0

---

---

---

---

---

Bristol totals
28
0
0
0
1
2
3
4
5
6
7
8
9
Bristol Tigers
0
0
0
0
0
0
0
0
0
Covington Astros
2
1
1
0
0
2
0
0
x
E- Austin, Thompson, Polanco
DP- Bristol 1
LOB- Covington 10 Bristol 2
2b - Holland, Sims
S - Sprockett, Aloi
SB - Newland

Bristol Tigers
IP
H
R
ER
BB
K

---

---

---

---

---

---

---

Bill Madden (L)
1-1/3
2
3
3
5
1
Steve Mullins
6-2/3
6
3
2
2
6
Covington Astros
IP
H
R
ER
BB
K

---

---

---

---

---

---

---

Dave Aloi, (W, 1-0)
9
0
0
0
1
12

PB - Stoller 4
Time - 1:49
Attendance - 428

Using Bill James' Game Scores to evaluate this very well-pitched game, Aloi's effort--so close to a perfect game--ranks very highly indeed, grading out to a 98, which ties Aloi for second (with Jay Dahl's 17-strikeout, no walk game pitched July 25, 1963) as the second most dominant performance of all the great games collected here at Astroland.

Source: The Covington Virginian, August 23, 1973
The Miami-Dade Public Library and the inter-library loan system get an assist on this one