Ken Johnson No-Hits the Reds, Loses

Cincinnati Reds 1 Houston Colt .45's 0

April 23, 1964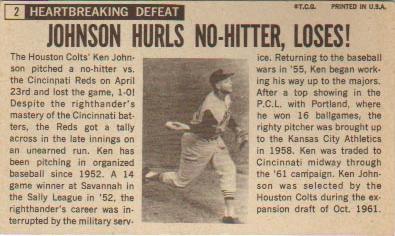 The reverse of Johnson's 1964 Topps Large # 2
---
Houston (AP) -- Houston's Ken Johnson pitched the first no-hitter of the season Thursday night, but was beaten by his former Cincinatti teammates 1 - 0, when the Reds scored in the ninth on two errors. It was the first time in major league history that a pitcher had hurled nine no-hit innings and lost. The last pitcher to lose a no-hitter was Pittsburgh's Harvey Haddix, who went twleve innings against Milwaukee in 1959 before the Braves won 1 - 0 in the thirteenth inning. There have been various other instances of pitchers losing no-hitters in extra innings.
Johnson, a 30-year old knuckleball specialist from West Palm Beach, Florida who was drafted from the Reds in the 1961 National League expansion draft, placed himself in joepardy with one out in the ninth when he fielded a bunt by Pete Rose and threw wildly to first base. Rose went to second on the play. Johnson then got Chico Ruiz to hit a grounder to third baseman Bob Aspromonte, who threw out the runner as Rose reached third. Vada Pinson then sent a grounder to veteran second baseman Nellie Fox, who booted the ball. Rose raced across the plate with the only run of the game. Johnson got Frank Robinson to fly out to leftfielder Jim Wynn for the final out.
The Colts thus went to the bottom of the ninth trailing 1 - 0, with Cincinatti starter Joe Nuxhall working on a five-hitter. Eddie Kasko, the first Houston batter, struck out. Fox then grounded to shortstop Leo Cardenas and was thrown out. Pete Runnels, a former American League batting champion, rapped a grounder to first baseman Deron Johnson, who threw to Nuxhall covering at first base. [Umpire Stan] Landes called Runnels out, but was reversed by plate umpire Augie Donatelli. Runnels was awarded first base, and after the Reds announced the game was being played under protest, play resumed. The protest proved unnecessary. Nuxhall faced Johnny Weekly and proceeded to strike him out. . . .
---
Cincinnati Reds
AB
R
H
RBI

---

---

---

---

---

Pete Rose, 2b
4
1
0
0
Hilario Ruiz, 3b
4
0
0
0
Vada Pinson, cf
3
0
0
0
Marty Keough, pr/cf
0
0
0
0
Frank Robinson, rf
4
0
0
0
Deron Johnson, 1b
3
0
0
0
Bob Skinner,lf
2
0
0
0
Johnny Edwards, c
3
0
0
0
Leo Cardenas, ss
3
0
0
0
Joe Nuxhall, p
3
0
0
0

---

---

---

---

---

Cincinnati totals
29
1
0
0
1
2
3
4
5
6
7
8
9
Cincinnati
0
0
0
0
0
0
0
0
1
Houston
0
0
0
0
0
0
0
0
0
E - Cardenas, D. Johnson, K Johnson, Fox
DP - Cardenas and D. Johnson;
Ruiz, Rose and D. Johnson;
Cardenas, Ruiz and Cardenas
LOB- Cincinnati 3 Houston 4
2B - Wynn

Cincinnati Reds
IP
H
R
ER
BB
K

---

---

---

---

---

---

---

Joe Nuxhall (W, 1 - 1)
9
5
0
0
1
6
Houston Colt .45's
IP
H
R
ER
BB
K

---

---

---

---

---

---

---

Ken Johnson (L, 2 - 1)
9
0
1
0
2
9
Time - 1:56
Attendance - 5,426
---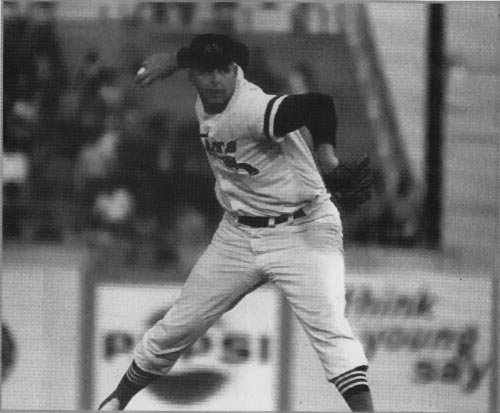 A picture from Reed's Colt .45's: A Six-Gun Salute, with the caption,
'Ken Johnson in the early going of his no-hitter vs. the Reds'
"It's a helluva way to get into the record books," the AP quoted Johnson as saying. "I pitched the best game of my life and still lost, but, honestly, I can't feel bad about that." Reed in his Six Gun Salute reveals a few interesting things, foremost among these being that Rose still maintains he would have beat a good throw to first. Don't bet on it, Pete: Johnson claimed to the AP that "a good throw would have nailed him," and broadcaster Gene Elston admits only that the play would have been close. Reed also says that despite Reds' manager Fred Hutchinson's protest, Nuxhall had freely admitted that he dropped Deron Johnson's toss. "Hutch, I dropped it," Reed quotes Nuxhall as telling his boss.
Reed also notes that in addition to Fox's fielding error in the top of the ninth, and his inability to get a rally going in the bottom half, Fox had also been caught in a rundown off third base in the seventh. I guess when Fox told Johnson after the game "I'm sorry I had to mess it up," he wasn't just talking about the error on Pinson's grounder. Reed also quotes Runnels with perhaps the last words on the whole thing, when he told Johnson, "Somebody pitches a no-hitter every year. Yours, though, people will remember." Sure enough.

Using Bill James' Game Scores to evaluate this very well-pitched game, Johnson's effort, despite the loss he took, grades out at 92 points, which is the 14th highest total of all the great games collected here at Astroland, and the fifth-highest-rated major league game, behind Don Wilson's first no-hitter, Mike Scott's division-clincher, Nolan Ryan's no-hitter vs. the Dodgers, and Darryl Kile's similar effort vs.the Mets
Sources: The Miami Herald, April 24, 1964
Robert Reed, Colt .45's: A Six-Gun Salute (Houston: Lone Star Books, 1999)