Darryl Kile No-Hits the New York Mets

Houston Astros 7 New York Mets 1

September 8, 1993

HOUSTON - Darryl Kile, a low-budget starter on a multimillion-dollar staff, pitched baseball's second no-hitter in five days, leading the Houston Astros over the New York Mets 7 - 1 Wednesday night.
Kile, backed by excellent plays from third baseman Ken Caminiti and shortstop Andujar Cedeño in the seventh inning, threw Houston's first no-hitter since Mike Scott clinched the NL West championship with a 2 - 0 victory over San Francisco September 25, 1986.
Kile struck out nine and walked one. His gem came after Jim Abbot pitched a no-hitter for the New York Yankees against Cleveland Saturday. Seattle's Chris Bosio pitched the other no-hitter in the majors this year, against Boston April 22.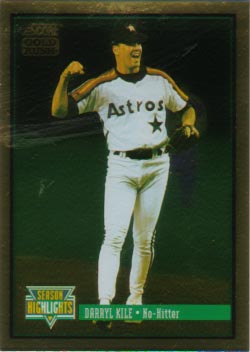 1994 Score Gold Rush # 630
The last NL no-hitter [had been] by Los Angeles' Kevin Gross August 17, 1992. An Astrodome crowd of 15,684 stood as Kile finished it off in the ninth by retiring Todd Hundley on a routine grounder and striking out pinch-hitters Tito Navarro and Chico Walker.
Kile, a 24-year-old righthander, pumped his right hand, then threw both arms in the air after Walker swung and missed at a 1 - 2 breaking ball. Catcher Scott Servais embraced Kile as he was mobbed on the mound by teammates. Kile pitched the Astros' ninth no-hitter. The Mets have none. Both teams entered the league in 1962. It was the sixth no-hitter against the Mets, and the first since San Francsico's Ed Halicki did it in 1975.
1
2
3
4
5
6
7
8
9
R
H
E
New York Mets
0
0
0
1
0
0
0
0
0
1
0
3
Houston Astros
0
1
2
0
1
0
0
3
X
7
9
1
New York Mets
AB
R
H
RBI

---

---

---

---

---

Ryan Thompson, cf
3
0
0
0
Chico Walker ph
1
0
0
0
Jeff McKnight, ss
2
1
0
0
Eddie Murray, 1b
3
0
0
0
Joe Orsulak lf
3
0
0
0
Dave Gallagher, lf
0
0
0
0
Jeromy Burnitz, rf
3
0
0
0
Jeff Kent, 2b
3
0
0
0
Butch Huskey, 3b
3
0
0
0
Todd Hundley, c
3
0
0
0
Frank Tanana, p
1
0
0
0
Ced Landrum, ph
1
0
0
0
Josias Manzanillo, p
0
0
0
0
Dave Telgheder, p
0
0
0
0
Tito Navarro, ph
1
0
0
0

---

---

---

---

---

Mets totals
27
1
0
0
E- Bagwell (8)
Murray (14), Huskey (1), Tanana (1).
DP - New York 1 Houston 0
LOB-
2B - Cedeño (20)
Bagwell (37)
Biggio (39)
HR - Caminiti (12)
Cedeño (7)

New York Mets
IP
H
R
ER
BB
K

---

---

---

---

---

---

---

Frank Tanana, L (6-15)
5
7
4
4
0
0
Josias Manzanillo
2-2/3
2
3
0
1
4
Dave Telgheder
1/3
0
0
0
0
0
Houston Astros
IP
H
R
ER
BB
K

---

---

---

---

---

---

---

Darryl Kile, W (15 - 6)
9
0
1
0
1
9

WP- Kile (6)
Time - 2:11
Attendance - 15,684


The loss was yet another inidgnity for the Mets, who have the worst record in the majors and are in the midst of their most embarassing year--on and off the field--since their expansion year of 1962.
Kile, who split time between the majors and the minors last year, began this season as the Astros' fifth starter. He even made six appearances out of the bullpen early this year while the Astros turned to high-priced free agents Doug Drabek and Greg Swindell. But while Drabek ($4.25 million) and Swindell ($3.75 million) have struggled this season, going a combined 18 - 26, Kile ($247,500) has emerged as the Astros' best pitcher.
Kile pitched himself onto the All-Star team, going 10 - 1. He also won his first decision in the second half for a major league-best nine game winning streak. Kile, a 30th round draft pick by Houston in 1987, evened his career record at 27 - 27.
Kile retired the first ten batters he faced before walking Jeff McKnight with one out in the fourth. McKnight wound up scoring with two outs on a bizarre play. Kile's pitch appeared to hit Joe Orsulak on the foot, and the ball bounced away from the catcher. Servais apparently thought the ball hit Orsulak and did not attempt to retrieve it, and McKnight ran to third. First baseman Jeff Bagwell recovered the ball and threw wildly to third, allowing McKnight to score.
In the seventh, the Astros' infield saved Kile. With one out, Eddie Murray grounded sharply down the third base line, and Caminiti dove and back-handed the ball. He scrambled to his feet and his throw beat Murray by a half-step. Orsulak followed with a grounder deep in the hole between third and shortstop. Cedeño went to his right, threw off-balance, and Bagwell scooped the one-hop toss, barely ahead of Orsulak. Orsulak argued the call and was ejected by first-base umpire Mark Hirschbeck. Caminiti and Cedeño also gave Kile all the offense he needed. Caminit hit a solo home run, his twelfth, in the second off Frank Tanana. Cedeño hit a solo shot, his seventh, in the fifth inning. Kile's previous low-hit game was a three-hitter August 17th vs. the Marlins.

Sources: The Miami Herald, September 9, 1993 and. . .
The play by play information used here was obtained free of charge from and is copyrighted by Retrosheet. Interested parties may contact Retrosheet at
20 Sunset Rd., Newark, DE 19711, or click here.

Click here for the other game accounts and boxscores in the Astroland Index