Houston Astros 1, San Diego Padres 0
Butch Henry Pitches the Game of his Life
April 19, 1992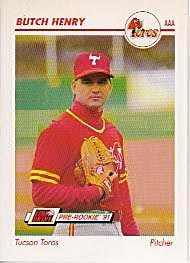 1991 Line Drive # 612
San Diego Padres
0
0
0
0
0
0
0
0
0
0
0
-
0
9
0
Houston Astros
0
0
0
0
0
0
0
0
0
0
1
-
1
7
1
San Diego Padres
AB
R
H
RBI
BB
K
PO
A
Tony Fernandez ss
5
0
2
0
0
0
0
2
Tony Gwynn rf
5
0
1
0
0
0
2
0
Gary Sheffield 3b
5
0
2
0
0
1
0
1
Fred McGriff 1b
5
0
2
0
0
0
8
0
Benito Santiago c
5
0
0
0
0
0
12
0
Jerald Clark lf
5
0
0
0
0
2
6
0
Darrin Jackson cf
4
0
0
0
1
2
2
1
Tim Teufel 2b
5
0
0
0
0
0
2
5
Andy Benes p
3
0
2
0
0
1
0
0
Kevin Ward ph
1
0
0
0
0
1
0
0
Rich Rodriguez p
0
0
0
0
0
0
0
1
Larry Andersen p
0
0
0
0
0
0
0
0
San Diego Totals
43
0
9
0
1
7
32
10
DP - San Diego 1
IBB - Jackson (1, by Osuna).
E- Candaele (1).
2B - Benes (1, off Henry).
Biggio 2 (5, off Benes 2); Bagwell (4, off Benes).
SH- C. Jones (3, off Rodriguez).
IBB- Bagwell 2 (3,by Benes, by Rodriguez); Biggio (2, by Rodriguez).
San Diego Padres
IP
H
HR
R
ER
BB
K
Andy Benes
9.0
5
0
0
0
1
11
Rich Rodriguez L(0-1)
1.2
1
0
1
1
2
0
Larry Andersen
0.0
1
0
0
0
0
0
San Diego Totals
10.2
7
0
1
1
3
11
Houston Astros
IP
H
HR
R
ER
BB
K
Butch Henry
9.0
7
0
0
0
0
5
Al Osuna
1.2
2
0
0
0
1
2
Xavier Hernandez, W (1-0)
0.1
0
0
0
0
0
0
Houston Totals
11.0
9
0
0
0
1
7
BK: Osuna (1).
IB: Osuna (1, Jackson).

Umpires: Frank Pulli, Bob Davidson, Tom Hallion, John McSherry
Time: 2:50
Attendance: 7717

1992 Donruss
The Rookies # 51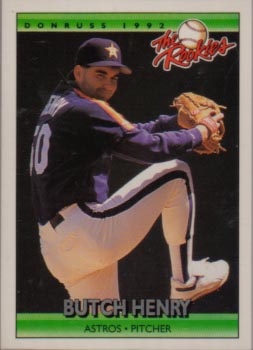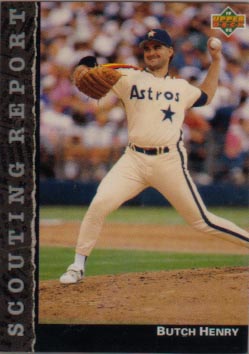 1992 Upper Deck
Scouting Report # SR9
You gotta remember that when this game was played, Andy Benes was considered an ace, one of the premier pitchers in the National League. And when I headed over to the sportsbar that sleepy Sunday, I was figuring maybe the 'Stros could squeak out 3 or 4 runs off Benes; I never expected Henry to outpitch a Benes who had his A-game. But although Henry didn't get the decision, that's exactly what he did. I kept ordering Sam Adams in the nearly-deserted bar, and Butch Henry kept getting Padres out. I remember being so happy to see this, not so much because the Astros might get the victory, but more because I was watching a guy tap his absolute maximum potential; yes, a once-in-a-lifetime kind of thing. It wasn't a matter of ability, obviously--'cause Benes had way more of that--it was desire, heart, the stars being aligned, whatever. Everything coming together so that a number five starter could outduel one of the premier pitchers in the National League. The game Henry pitched that day was absolutely astonishing, and I will always remember it.
Floyd Bluford Henry was acquired along with Terry McGriff and Keith Kaiser in the trade that sent away Bill Doran on August 31, 1990. Henry's 4.80 ERA at Tuscon in 1991 was nothing special, but he had a good spring of '92 and won a job in the Houston rotation. His ERA for 1992 was 4.02, but there were flashes of brilliance such as the game chronicled here. Henry was lost to the Rockies in the November 1992 expansion draft, then moved on to Montreal, where he had two excellent years in 1994 and 1995, starting at least 15 games and pitching at least 100 innings, with a sub 3.00 ERA each year. He also notched a complete-game shutout for the Expos in 1995, so that bit above about "the game of his life" isn't technically true. Henry finally faded away after the 1999 season he spent with Boston. Overall, he was 33 - 33 in the majors with a 3.84 ERA.
Click here for the other game accounts and boxscores in the Astroland Index