Wife Cheered, Mauch Jeered Nottebart Gem

Houston Colt .45's 4 Philadelphia Phillies 1

May 17, 1963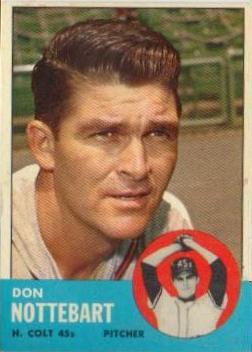 1963 Topps # 204
Houston (AP) - Mrs. Don Nottebart seldom goes to baseball games. She doesn't like to see her husband pitch because it makes her nervous.
But Jo Ann Nottebart decided to see her second game this year Friday night.
And she and 8,222 other fans saw Nottebart join baseball immortals by pitching a no-hitter for the Houston Colts against the Philadelphia Phillies.
The final score was 4 - 1 in favor of Houston as Philadelphia scored on a two-base error, a sacrifice bunt and a sacrifice fly. Houston's runs came on a three-run homer by Howie Goss and a solo homer by Carl Warwick.
Nottebart's victory was his fifth this year against one loss and oddly enough the first time for him to complete a game. In previous outings he tired about the seventh or eighth innings.
Nottebart's no-hitter came six days after Sandy Koufax of Los Angeles pitched [one] against the San Francisco Giants. It was the first in which the hitless team scored a run since July 1951 when Bob Feller of Cleveland no-hit Detroit, 2- 1
Nottebart said he first realized he hadn't given up a hit when he went out for the fourth inning.
"I looked up at the scoreboard and saw that zero and said to myself, "This is no joke," he recalled.
He said he really started thinking about it in the seventh and "when I went out in the ninth, the pressure was really on."
"I really didn't think I would do it," the 27-year old righthander and former Milwaukee Brave pitcher said. "But I knew if I didn't, it would be my own mistakes."
Nottebart said he threw mostly sliders all night mixing them up with a sinking fastball.
"I didn't throw a curve all night," he said.
In the late innings, Nottebart said he could hear Philly Manager Gene Mauch yelling from the dugout: "You'll never make it, Nottebart, you'll never make it."
Shortstop JC Hartman was the only sad man on the team following the game. Hartman let Don Demeter's grounder go through him for the two-base error that led to the Phillies' lone run.
"He had his head down when I came into the clubhouse," Nottebart said. "I didn't give him a chance to say anything but I patted him on the back and told him to forget it. Those things happen to everybody."
Nottebart came to the Colts in a trade with Milwaukee before the season. Colt owner PE (Bob) Smith awarded him $1,000 for his great job.
Philadelphia Phillies
AB
R
H
RBI

---

---

---

---

---

Tony Taylor , 2B
3
0
0
0
Johnny Callison, RF
4
0
0
0
Tony Gonzalez, CF
4
0
0
0
Wes Covington, LF
4
0
0
0
Don Demeter, 1B-3B
3
1
0
0
Clay Dalrymple, C
1
0
0
0
Don Hoak, 3B
1
0
0
1
Roy Sievers, 1B
1
0
0
0
Bobby Wine, SS
2
0
0
0
Jack Hamilton, P
2
0
0
0
Billy Klaus, PH
1
0
0
0
Ryne Duren, P
0
0
0
0

---

---

---

---

---

Philadelphia totals
26
1
0
1
Houston Colt .45's
AB
R
H
RBI

---

---

---

---

---

Johnny Temple, 3B
4
0
1
0
Bob Aspromonte, 3B
0
0
0
0
Al Spangler, LF
4
1
0
0
Carl Warwick, RF
4
1
4
1
Rusty Staub, 1B c
2
0
1
0
Pete Runnels, 1B
1
1
0
0
Howie Goss, CF
4
1
1
3
John Bateman, C ss
3
0
0
0
Bob Lillis, 2B
3
0
0
0
JC Hartman, SS
0
0
0
0
Don Nottebart, P
0
0
0
0

---

---

---

---

---

Houston totals
31
4
7
4
1
2
3
4
5
6
7
8
9
Philadelphia
0
0
0
0
1
0
0
0
0
Houston
1
0
0
0
0
3
0
0
0