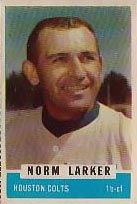 1962 Bazooka Unnumbered
---
Mr. Larker, an All-Star for the Dodgers in 1960, was selected by the Colts .45's in the twelfth round of the first phase of the 1961 Expansion Draft. In Larker's one year with the Colt .45's, he tied for the club lead in walks, with 70, and led it in doubles with 19, and in On-Base Percentage with a .358. . .

Although he appeared in the 1963 Post and Jello sets for the Colts (# 188), Larker was actually traded to the Milwaukee Braves for outfielder Jim Bolger and pitcher Connie Grob on November 30, 1962. Unlike Bolger or Grob, Larker actually played in the National League for 1963. Milwaukee traded him to the San Francisco Giants sometime during the year, and that would be Larker's last year in the majors.

Grob did not make the majors with Houston, but pitched for the 1963 PCL champion and 1964 Oklahoma City '89ers, while Bolger immediately retired. Another Brave picked up that day, for cash, ended up doing OK for Houston, though. His name was Don Nottebart. . .

.