Harry Craft's All-Rookie Lineup
September 27, 1963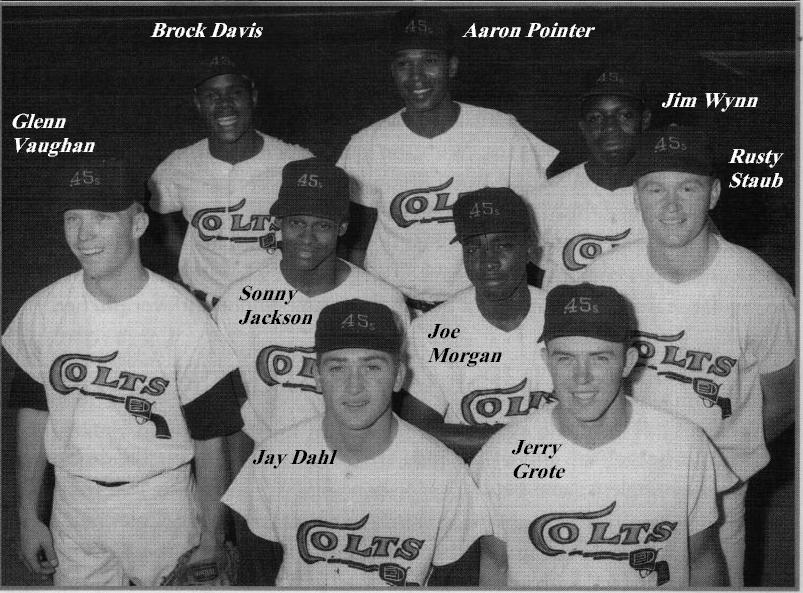 On September 27, 1963, in a plan undoubtedly hatched by GM Paul Richards to show off the team's youth program, the Colt .45's placed on the Colt Stadium field a starting lineup comprised entirely of rookies. The lineup had an average age of 19 years and 4 months, would feature four future all-stars, and although things got pretty ugly pretty quick, only three Colt players of the eighteen used had seen major league action prior to '63.
It was not a bad time for such an experiment either. Only three games remained in the National League season, and the ninth-place Colts were neither going to be caught by the last-place Mets, nor were they going to catch the eighth-place Pirates. The Colts were not going to lose 100, nor were they going to win 70. And their opponent was coincidentally enough (not!) those same last-place New York Mets.
The original plan had been to start Larry Yellen, but Yellen had asked not to pitch that Friday evening, citing a Jewish holiday. So the ball instead was given to lefthander Dahl, who got the side with no damage done in the first. But in the second he ran into major problems, giving up three runs on three hits and a wild pitch. Dahl came back for the third, but would not finish the inning, and manager Craft brought in another rookie lefty, Coombs, with two gone, to try and stop the bleeding. Instead, Craft got a hemorrhage. Coombs gave up three more hits before finally getting Ron Hunt to line out to second. In the bottom of the inning, the first non-rookie came to the plate, as second year man Johnny Weekly walked as a pinch-hitter for Coombs. But Weekly did not score and after three innings the grand experiment stood at Last Place Mets 8, Colt Rookies 0.
You'd figure it couldn't get worse, and it didn't, either. The Old Man of the Colts that day, 26 year 10 month old Joe Hoerner, came in in the fourth and pitched three scoreless innings. For the rest of the game, the Colts actually outscored the Mets 3 - 2. Veteran Carl Warwick pinch hit for Jim Dickson in the eighth, and second year man Ernie Fazio replaced Vaughan in a double switch late.
Note that Colt pitchers combined for two walks, and the Colt lineup combined for 11 hits (all but Morgan's ninth-inning triple were singles, though). The game was as one-sided as it looks, but there were flashes of competency by the extremely young future major leaguers assembled.
---


New York Mets
AB
R
H
RBI

---

---

---

---

---

Joe Christopher rf
4
0
0
0
Dick Smith cf
5
1
1
0
Ron Hunt 2b
5
1
1
1
Ted Schreiber 2b
0
0
0
0
Frank Thomas lf
5
1
2
0
Rod Kanehl lf
0
0
0
0
Jim Hickman 3b
5
1
3
1
Tim Harkness 1b
5
2
1
0
Ed Kranepool 1b
0
0
0
0
Chris Cannizzaro c
4
2
1
2
Al Moran ss
5
2
3
2
Al Jackson p
5
0
2
1

---

---

---

---

---

Mets totals
43
10
15
9
1
2
3
4
5
6
7
8
9
New York Mets
0
3
5
0
0
0
1
0
1
Houston Colt .45's
0
0
0
1
1
0
0
0
1
E - Davis 2, S. Jackson, Hickman, Harkness
LOB- New York 8 Houston 12
2B - Hunt, Hickman, Harkness 3B - Morgan
SF - Cannizzaro

VISITOR
IP
H
R
ER
BB
K

---

---

---

---

---

---

---

Al Jackson (W, 13 - 17)
9
11
3
3
2
8
| | | | | | | |
| --- | --- | --- | --- | --- | --- | --- |
| --- | --- | --- | --- | --- | --- | --- |
| Jay Dahl (l, 0 - 1) | 2-2/3 | 7 | 7 | 5 | 0 | 0 |
| Danny Coombs | 1/3 | 3 | 1 | 1 | 0 | 0 |
| Joe Hoerner | 3 | 2 | 0 | 0 | 0 | 2 |
| Jim Dickson | 2 | 1 | 1 | 0 | 1 | 0 |
| Dick Drott | 1 | 2 | 1 | 1 | 0 | 0 |

WP- Dahl, Drott
Time - 2:39 Attendance - 5,802

Source: The Miami Herald August 28, 1963 and
Colt .45's: A Six Gun Salute by Robert Reed,
whence I got the picture and some background.
The book had some errors I noticed, though.
Thank you to both.

Click here to go back to Astroland

Click here for the other game accounts and boxscores in the Astroland Index