'You Have to Be Father, Mother. . .'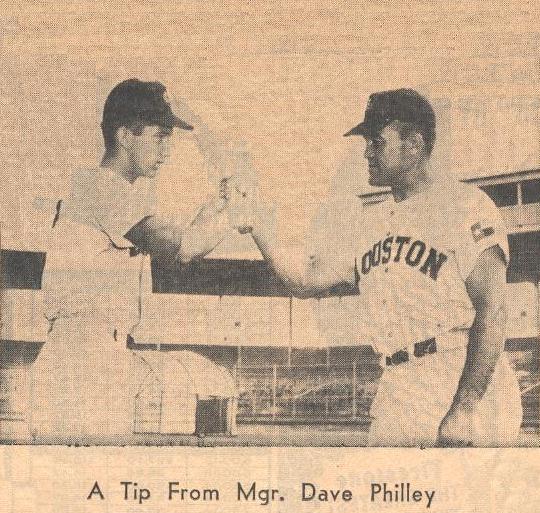 by Bill Peterson
Times Sports Editor
COCOA -- "You have to be father, mother, brother, and sister," said Dave Philley, "but I like to work with them."
From the standpoint of major-league baseball experience, it would be difficult to find a better man than Philley to take charge of one of the best baseball prospects of the year. Philley spent 18 years and 10 days in what is commonly referred to as "the Big Leagues." Go out to Yankee Stadium and find one of those dedicated, every-day, know-every-player fans.
Ask him who the best, most-feared, pinch hitter was in the past 30 years. Chances are he'll say Dave Philley. Philley once pinch-hit safely eight times in succession. His specialty was getting rallies started, or winding them up with a long blast over the fence.
As "father" of some 22 rookies wearing the Houston Colt .45's label, Philley finds the work satisfying. His three counterparts at the Cocoa training center are Fred Waters ([Melbourne] Twins), Ken Deal ([Florida] Mets), and Harold Daugherty ([Cocoa] Tigers).
The hundred or more youths in the Florida Rookie League are for the most part in their late teens. They all have one thing in common: the ability to play good baseball.
Where are they from? Oneonta, N.Y., Kenosha, Wis., Joplin, Mis., Snyder, Texas, Panama, Canada, you name it. They're the youths that starred on the high school and college teams this spring.
All have the tools necessary to play professional baseball. All are shooting for the big time, but not all will make it. Just how many will eventually make a major league roster is unknown. This is up to Philley, Waters, Deal, Daugherty, their managers up the line, a few scouts and club officials, but most of all it is up to the player.
Hitting, fielding, speed, and the other tools of the trade are not enough. To make the big time it takes work, concentration, poise, and that extra grain of competitive spirit that places one player ahead of another.
The road may long or short for this year's crop in the Florida Rookie League. Their future is unknown. But one thing is sure: they won't be back in this league next year. It will either be up or out.
Source: The Florida Times, July 25, 1964