KISSIMMEE -- Last summer, Osceola Astros third baseman Ken Caminiti elected to try out for the US Olympic baseball team rather than report to the Houston Astros farm system for his first year of professional ball.
He was the Astros' third-round draft pick in the 1984 summer draft. Houston was anxious for him to begin his pro career, but Caminiti wanted to take advantage of the once in a lifetime opportunity and toured with Olympic team.
He was the final cut before the Olympic games. While disappointed that he didn't participate in the Los Angles games, Caminiti doesn't regret his decision.
"I knew I'd be playing with and against a lot of talented people," Caminiti, from San Jose, Cal., said. "We traveled all over the country and played Class A and Class AAA teams. It was good experience. And the Astros encouraged me. They told me they would rather have me play for them, but they went along with my decision."
Caminiti, 22, a football, baseball, and basketball star at San Jose's Leight High School, plaued college baseball at San Jose City College, then at San Jose State University. "I was a back in football," he said. Blessed with a strong right arm which some scouts say is the best in the FSL, Caminiti said he didn't play quarterback "because I like to hit, I liked to play defense."



An injury prevented him form playing football in college, but Caminiti figured all along baseball was his best sport. Based on his performance this season, it's hard to believe the one-year delay hampered Caminiti's development.
He is a big reason the Astros won the Central Division crown.Caminiti led the league in RBI's, doubles and scoring most of the season until a combination of a shoulder injury and an Astros' team slump left him with few opportunities to score on knock in runs. Even with the problems, he batted .275, and leads the team with 10 game-winning RBIs.
"I'm a little dissatisfied," he said of his statistics. "The shoulder was part of it. It didn't bother me when I swung, but I had to DH a lot and it's tough to stay in the game when you're coming off the bench."
Caminiti strained his throwing shoulder in an early season game at Fort Myers. "I had to make a throw across my body. It felt funny after I threw it, and the next day it was sore."
After three months of treatment, Caminiti said the shoulder is back to normal.
Osceola manager Dave Cripe feels Caminiti has the tools to advance up the minor league ladder.
"he has one of the better arms I've seen when he's healthy," Cripe said. "He has good hands and good reactions defensively. As for his hitting, he's still learning to switch. He doesn't have what
you'd call a home run swing, but he has the power to hit the ball to the gaps."
Caminiti, a natural right-hander, began switch-hitting two years ago in college. "I always took batting practice left-handed, so I just kept practicing. I have just as much power from either side," he said.
He hit six home runs in the spacious FSL parks this season, and agrees that he isn't a true power hitter yet.
I'd like to say I am, but I'm not," he said. "I think I could be a power hitter. It all depends. It doesn't really matter, just that I hit."
His father, Lee, was a high school and college baseball player. Caminiti's mother, Yvonne, would put on a mitt when called upon and caught everyone in the family, including Caminiti's older brother Glenn.
"I always wanted to be as good as Glenn," said Caminiti. "He always pushes me hardest."
After the FSL playoffs, Caminiti will take a week off before reporitng to Arizona for a six-week instructional league. After that "I'm just gonna sit back for a while."
Caminiti, who seems so relaxed off the field you soemtimes wonder how he keeps his eyes open, claims it's a different matter when the game begins.
"I get butterflies beofre the first pitch, or when I'm on deck," he said. "After that I settle down. But after the game's over, it's over."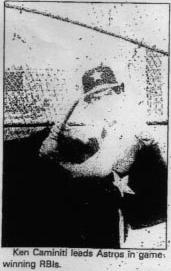 Caminiti, 6-2, 200, will no doubt disappoint many of his local female fans when he marries his fiance, Nancy Smith, who is attending San Jose State.
"We're waiting for her to graduate before we get married," he said. "it will be better that way."
He has put no timetable on his advancement up the Astros system.
I'm just hoping to go up every year," he said. "i'm definitely going to give it every chance. I've got to learn to be a little more patient with off-speed stuff."