IVAN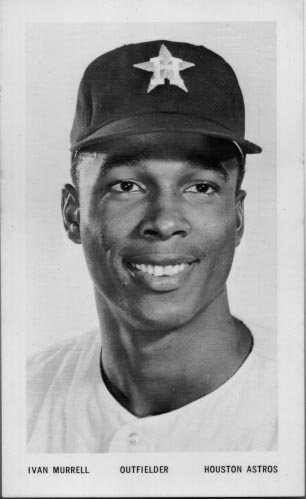 MURRELL
1967 Team Issue 30 Unnumbered
---
Signed as an 18-year old free agent out of Almirante, Panama on May 16, 1963, Murrell began the year at Moultrie, but made his major league debut by the end of that year, the day after four players made their own debuts when Harry Craft played his All-Rookie Lineup, and the day before John Paciorek made his. Murrell--who now says he subtracted a couple years from his age when originally talking to scouts-- thus that day may or may not have been the youngest Latino to make it to the bigs.
The Colts must have been really high on Murrell's ability, size, or youth, because after a poor to fair 1964 season at Durham, they recalled him again for a slightly lengthier stay. Getting 14 at-bats for Houston in 1964, Murrell did collect his first extra-base hit in the majors, a double, but did nothing otherwise of note.
1965 was wiped out by a leg injury sustained in spring training, but one imagines he would have started at AA Amarillo.
He returned from injury with the 1966 Durham Bulls, and was playing there when the following story was written: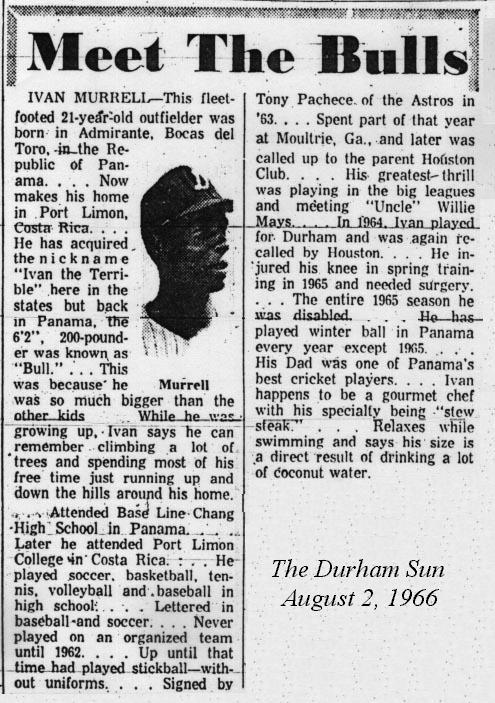 1967 was by far Murrell's best year in the Astros organization. Not only did Murrell make the PCL All-Star team, the call up when it came was successful, as well. No extra base hits, but 9 hits in 29 at bats looked good for a change. Only problem was, he made 2 errors while completing 11 putouts. . . .
Murrell broke camp in '68 with the major league club, the first time he had managed to do so, and played in the game April 16, when the Astros and the Mets played the longest shutout by innings in major league history. But after 32 games, with his average at a painful .102, Murrell was sent to AAA Oklahoma City again. During the offseason, Murrell was selected by the Padres with the 21st pick in the expansion draft, and Murrell had most of his major league success and interesting moments with the Padres. For example, Murrell was in the lineup, and was actually hit by a pitch in Dock Ellis' famed lysergic no-hitter. Murrell last played major league ball for the 1974 Atlanta Braves and last played professionally for the Mexican League Leon Bravos in 1983. He has recently been active managing in the Independent Southeastern League and currently resides in South Central Florida.
Ivan Murrell's Statistics Within the Astros Organization
Year
Team
League
AVG
HR
RBI
1963
Moultrie Colt .22's
Georgia-Florida
.221
4
18
1963
Houston Colt .45's
National
.200
0
0
1964
Durham Bulls
Carolina
.220
10
51
1964
Houston Colt .45's
National
.143
0
1
1965
-- Injured --
1966
Durham Bulls
Carolina
.253
12
63
1967
Houston Astros
National
.310
0
1
1967
Oklahoma City '89ers
Pacific Coast
.289
14
82
1968
Houston Astros
National
.102
0
3
1968
Oklahoma City '89ers
Pacific Coast
.160
0
5