Kenny Lofton, or, The Second Worst Trade

Craig Biggio's a pretty good player. Enos Cabell and Jose Cruz were good players, too. For the purposes of this little essay, the reason I say Biggio is pretty good player is that he led the National League in stolen bases in 1994. Maybe you'll see where I'm going with this, but anyway, the reason why I say Jose Cruz was a pretty good player is that he led the league in hits (or tied for the lead) in 1983, and Enos Cabell? He led the league in at bats for 1979.
Now, I would never suggest that any of these players' virtues lay solely on the basis of those accomplishments (Biggio, for example, led the National League in runs twice, a much more significant accomplishment), but nevertheless, Biggio remains the only Astro to have led the league in steals, Cruz remains the only Astro to have led the league in hits, and Cabell remains the only Astro to have led the league in AB's.
They must be pretty difficult accomplishments, but the Astros once traded away a guy who all by himself led his league in all three departments at one time or another. That guy was Kenny Lofton, of course, and while not quite a Hall-of-Famer, he did some things after he was traded away that no Astro has ever done.
1990 Star
Florida State League All Star # 11
1991 ProCard
AAA All-Star # 52
1992 Score Hot Rookies # 3
Undated RBI Magazine # C5
For example, Lofton led his league in steals five straight years, something done by Rickey Henderson, Vince Coleman, Luis Aparicio, and one other guy, in the history of the game. His six times total leading the league was surpassed by a few, but is as many as, say, Ty Cobb. For another thing, Lofton was a six time All-Star. Biggio has actually made the team seven times, but you get the picture, I'd think. Lofton is also a four-time Gold Glove winner, a feat equalled by Cesar Cedeño and Biggio, but surpassed only by Doug Rader. In addition, careerwise, Lofton would rank first all-time in steals on the club list, and sixth all-time on the Astros for Power/Speed Number, bested only by the following:
All-Time Astro Power/Speed Number
Through 2002, With Lofton for Kicks

| | | | | |
| --- | --- | --- | --- | --- |
| | Player | SB | HR | PSN |
| 1. | Craig Biggio | 381 | 195 | 257.96 |
| 2. | Jeff Bagwell | 185 | 380 | 248.85 |
| 3. | Cesar Cedeño | 487 | 163 | 244.24 |
| 4. | Jim Wynn | 180 | 223 | 199.20 |
| 5. | Jose Cruz | 288 | 138 | 186.59 |
| 6. | Kenny Lofton | 508 | 103 | 171.27 |
While that's certainly interesting, Power/Speed Number really doesn't have that big a correlation to winning. I started wondering where Lofton would rank all-time in more traditional stats. And Lofton does a bit better:
Lofton vs. Top Astros in Select Career Stats
Through 2002
Stat

Number

Where Lofton
Would Rank
Astros
Surpassed By
Hits
1781
4th
Biggio, Bagwell, Cruz
Doubles
286
5th
Biggio, Bagwell, Cedeño, Cruz
Triples
78
2nd
Cruz
Runs
1148
3rd
Biggio, Bagwell
Walks
735
4th
Bagwell, Biggio, Wynn
Average
.298
4th
Moises Alou, Berkman, Bagwell
Total Bases
2532
5th
Bagwell, Biggio, Cruz, Cedeño
Now, I understand that everything on this page is second-guessing of the most severe and distorted type. For example, comparing Lofton's career stats (compiled with six different teams, at last count) to those of other players while just wearing an Astros uniform may not present a true picture. Wynn, Cedeño, and Cruz, for example, would look at least a little better in comparison to Lofton if you threw in their stats for other teams. And I also understand Bill Wood's thinking to a better degree than you might think. The 1991 Astros had an outfield consisting of Luis Gonzalez in left, Steve Finley in center, and a platoon of Eric Anthony, Karl Rhodes, Mike Simms, and Mark Davidson in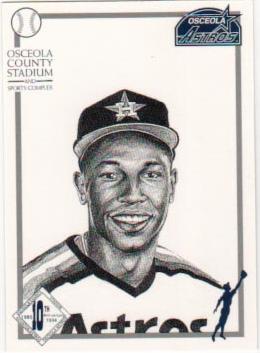 1994 Osceola All-Time # 23

right. (As a passing note, I find it fascinating to see that Finley played more games in right than all of them--Art Howe would move Finley, already a very good centerfielder, to right in late innings so he could use the amazing Gerald Young in the 8-spot. Man, if that guy coulda hit. . .) Looking back, it's easy to say that Gonzalez and Finley weren't going anywhere, and it probably appeared that way at the time, too. Davidson was a stopgap, and Simms, if he had a future at all, was gonna be at first. But the team had high hopes for Rhodes and especially for Anthony. Plus, James Mouton and Brian L Hunter had started their minor-league careers by then, as well, if Bill Wood or anyone under him was paying attention. With the imperative of getting Biggio out from behind the plate (and HE coulda played the outfield, too), the concept of Lofton for Taubensee made a lot of sense. It just worked out real crappy. . . .