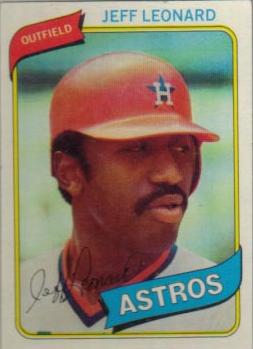 1980 Topps # 106
Leonard's "Batting Spree"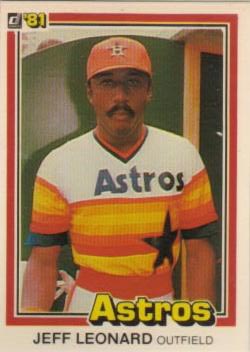 1981 Donruss # 264
The rules specify that the defensive team must have nine men in the field. If there are less than nine any subsequent play is nullified. A violation of this rule gave Jeff Leonard of the Houston Astros three consecutive times at bat in the same inning.
The Houston Astros were playing the New York Mets at Shea Stadium on August 21, 1979.
In the top of the ninth inning, Leonard came to bat with two out and the Mets leading 5 - 0. He flied out to center fielder Lee Mazzilli and the game was apparently completed.
Just before the pitch was delivered, however, Mets shortstop Frank Taveras had called "time," and Leonard was permitted to bat again. In the meantime, Mets first baseman Ed Kranepool had gone to the dugout, thinking the game was over. He was still there when Leonard returned to the plate to try his luck against Mets pitcher Pete Falcone.
This time, with only eight Mets on the field, Leonard singled. As Leonard approached first base, Kranepool, realizing his mistake, raced out of the dugout, but he was too late to fulfill the requirement for nine men on the field.
The umpires huddled and decided that because the Mets had violated the rules by having less than nine men on the field, Leonard's single was nullified and he would have to bat a third time.
Leonard in his third try flied out to left field, again apparently ending the game. He had gone 1-for-3 in just one at bat.
But wait, that wasn't the end of it. The Astros protested the umpires' ruling and the next day National League president Chub Feeney decided in Houston's favor. He said "time was in" when Leonard got the single and ordered the game resumed the next day with two out in the ninth and Leonard at first base
So on August 22, before the regularly scheduled game, the previous day's game was completed. Mets pitcher Kevin Kobel faced Jose Cruz with Leonard at first base. Cruz grounded out to end the game, the Mets winning 5 - 0.
Officially, Leonard went 1-for-1 in the ninth, though he had three at-bats in a row in that inning, in two of which he flied out.

The above was found quite some time ago in an issue of Baseball Digest by me and xeroxed and placed in my card books with the four Leonard Astro cards I own. I have no idea at this late date what issue this had been contained in, although I do know it was page 46. Sure is cool, no?