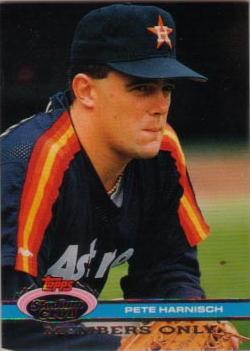 1991 Stadium Club Members Only Unnumbered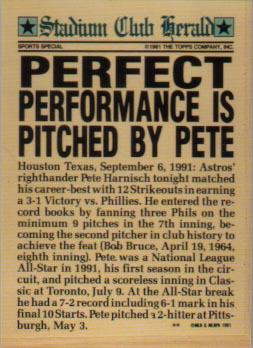 1991 Stadium Club Members Only Unnumbered (Back)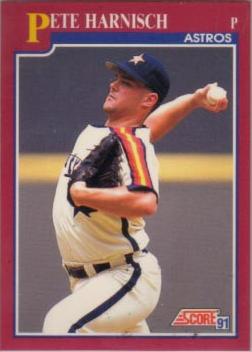 1991 Score Rookie/Traded # 36T
Pete Harnisch: By The Numbers
0

The Number of Houston Pitchers besides Harnisch who have pitched two one-hitters in a single year. Pete did it in 1993, July 10 at Chicago, and September 17 vs. San Diego.

1

The Number of All-Star Appearances made by Harnisch in an Astros uniform. In 1991, Pete pitched an inning in the midsummer shindig at Toronto, gave up a couple of hits, but let no-one score. . .

2

The Number of Opening Day Starts Pete made for the Astros. They were a loss to Tom Glavine and the Braves in 1992, and a no-decision in a Houston win over the Expos in 1994.

3
Harnisch's place on the National League Leaderboard in '91 for K/9IP. His 7.14 was bettered only by David Cone and Evil Voodoo Doctor Jose Rijo
4
The Number of shutouts Harnisch had to throw in 1993 to lead the NL in that department. Pedro Martinez was right on his tail with three.
5
Where Pete stood on the NL ERA list at the end of 1991, after having posted a 2.70, and having held opposing batters to a league-best .214
6
The Number of 1- 0 games Pete started in 1991. An anemic offense and Curt Schilling's somewhat spotty relief left Harnisch with a disappointing 2 - 2 record in these games.

to open a popup with the ghastly numbers. . .

7
The Number of Hits per Nine Innings (more or less) Pete gave up in 1991 and 1993, to lead the National League. In 1991, he gave up 7.02 and in 1993, he gave up 7.07
8
The Number of Wins Pete had in 1994, his last year in Houston. After an injury-marred season in which he only pitched 95.0 innings, Houston lowballed free agent Harnisch in the contract negotitations, and he left for the Mets. 'Course if he thought he mighta been mistreated in Houston, he hadn't seen nothing yet. . . .
9
The Number of Pitches Pete threw in striking out the side September 6, 1991 vs. the Phillies. The feat had previously been acomplished by Astros Bob Bruce, and was accomplished subsequently by Mike Magnante.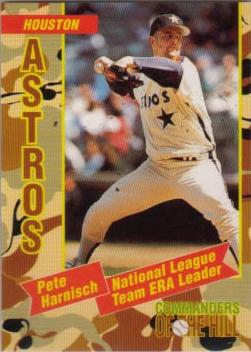 1993 Topps/Coke Commanders of the Hill # 21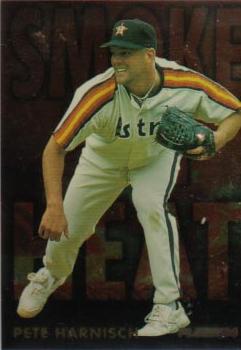 1994 Fleer Smoke 'N' Heat # 4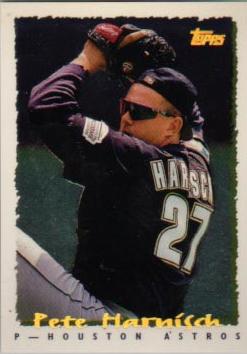 1995 Topps Cyberstats # 036
Click here to go back to Astroland