"Once the pride of Apache Junction, considered by many experts in the field as 'one of the spring training sites anywhere,' Geronimo Park crumbles each day a little closer to oblivion.
Adding insult to injury, wanton vandalism has helped push the facility even faster to destruction.
The ballpark and club house, once valued at well over $100,000, are hardly habitable by field mice today, and as the memory of the park's initial occupants grows even dimmer, chances of any future use by any humans grow even more remote. Perhaps significantly, even the name of the major league baseball team that trained here in 1962 and 1963 has been changed. The Colt .45s are now the Astros.
Technically, the Lost Dutchman's Association still owns the park and the adjacent clubhouse. But this promotional group, originally organized to sponsor the major league spring training season here, has long since exhausted al its funds. Actually, mortgages and other obligations are held by several different parties, and until their differences are resolved in court, the title to the ten-acre site remains clouded."
---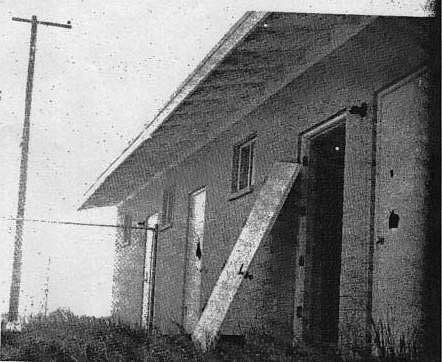 AN OPEN DOOR policy prevails in the club house of Geronimo Park where once youngsters stood with paper and pencil "at the back door" for autographs, awaiting the appearance of such famous baseball [stars?] as Willie Mays, Paul Richards, Alvin Dark, Ernie Banks, Ted Williams, etc.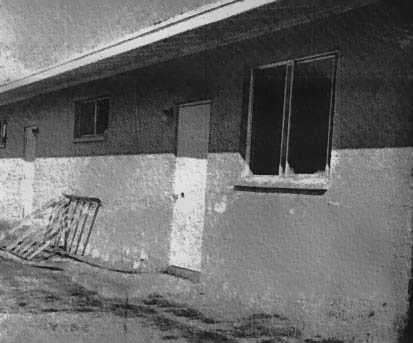 A SURVEY OF the clubhouse reveals that each and every window has been broken, obviously by persons more interested in the sound of breaking glass than in responsible, normal behavior.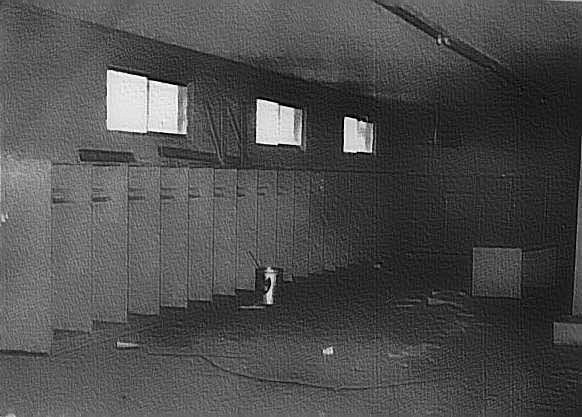 INSIDE THE CLUBHOUSE, the players' lockers stand cold and empty. . .The clubhouse alone was built at a cost of $40,000. Its worth today is difficult to estimate since hardly a shell remains.
---
Thanks to Steve Carroll, who did all the work. This site just collated it.


Or here to see the next page of Geronimo Park photos.