ERNIE

BONUS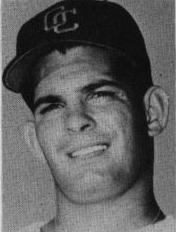 FAZIO

BABY
Not sure what the fascination was, but Ernie Fazio was Houston's future at second base before anybody but Paul Richards and Lou Fitzgerald had ever heard of Joe Morgan. Robert Reed, chronicler of the .45's in his book A Six Gun Salute, calls Fazio a "bonus baby" from California, which musta been true, 'cause Fazio sure as hell couldn't hit in Oklahoma.
Assigned to the AAA '89ers for the Colt .45's inaugural year, Fazio put up a .225-0-3 season at Oklahoma City in 1962, then still got a September call up. The good news during the callup was, everytime he got on base, he scored. The bad news was, in 12 games and 14 plate appearances, he only reached 3 times.
For '63, Fazio was handed the major league second base job out of spring training, and actually led the Colts in games played at second base, but eventually sat in favor of Johnny Temple, who outhit Fazio .264 to .183, while fielding three-one thousandths of a point lower than Ernie.
| | |
| --- | --- |
| 1963 Pepsi Colt .45's Unnumbered | TCMA The '60's Unnumbered |
For 1964, an aged Nellie Fox was brought in, and he hit like the departed Temple had, while fielding better than Fazio had managed. They spelled Fox at second base with natural shortstop Bob Lillis, who played 52 games at the position while playing another 43 at short. The Richards machine I'm sure figured that another year of seasoning at AAA, another September call-up and Fazio would be ready for his opening day assignment in the newly-built Astrodome for 1965.
Umm, wrong, Paul. Joe Morgan's MVP year for the '64 Texas League Champion San Antonio Bullets made everyone forget all about Fazio and his .257-12-61 year at Oklahoma City. Morgan and Mike White got the call-ups, and Fazio was left to win the "Most Popular '89er" award.
By spring training 1965, I'm sure that no-one was surprised when Morgan beat both Fazio and incumbent Fox out of a job. They kept Fox on as a tutor, sent Fazio to AAA, and this time forgot him for good. The Oklahoma City fans voted Fazio as Most Popular '89er again for 1965, but the story was over for Fazio in the Houston organization. In October, the Kansas City A's took Fazio as the player-to-be-named later in the early-season swap of Jim Gentile to Houston for pitcher Jess Hickman. Fazio played 27 games for Kansas City in 1966, hitting .206 with 2 RBI's, and spent most of his time at AAA Vancouver. Those 27 games would be his last in the majors. His final year in pro ball was in 1969 for the Iowa Oaks, under manager Jim Williams, who in 1970 would become the Columbus Astros's first manager, and lead the AA squad to an inaugural season championship.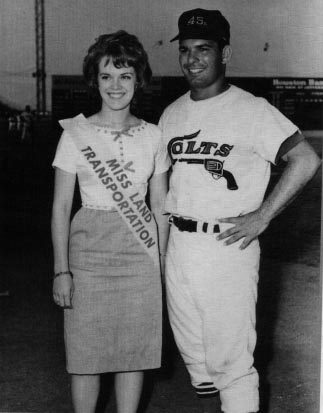 Where did all the good times go, Ernie?
---