Lance Berkman: Wild Card, OPS Machine

We have been reliably informed that Lance Berkman is wearing a "Sumo-Wrestler" costume in the below-pictured card. Gee, we would have never guessed. . .

In fact, in addition to the Japanese fat-guy shenanigans, according to BaseballLibrary.com, "Berkman's record includes no less than three instances of impersonating a mascot. In 1998, while playing for the [New Orleans] Zephyrs, Berkman was stuck on the DL while the team was in a slump. During one home game manager Tony Peña looked up and saw an unusually large Zephyrs' mascot dancing on the dugout. He quickly realized that his 6'1", 205-pound star outfielder was risking a re-injury to his knee, and ordered him down, slapping him with a $25 fine."

Beyond all that kooky stuff, Lance Berkman has also proven to be one of the greatest players in Astros history in terms of OPS. His 2001 season is the greatest single season for that category, and his name peppers the list of Astros with over 400 at bats (as in the 1994 strike-shortened season, Bagwell only had four hundred AB's) to OPS over 1.000 in a single season.
1.000 + Single Season OPS
Player
Year
SLG
OBP
OPS
AB
1994
Jeff Bagwell
.750
.451
1.201
400
2001
Lance Berkman
.620
.430
1.051
577
1999
Jeff Bagwell
.591
.454
1.045
562
2006
Lance Berkman
.621
.420
1.041
536
2000
Jeff Bagwell
.615
.424
1.039
590
2000
Moises Alou
.623
.416
1.039
454
2000
Richard Hidalgo
.636
.391
1.028
558
1996
Jeff Bagwell
.570
.451
1.021
568
1997
Jeff Bagwell
.592
.425
1.017
566
2004
Lance Berkman
.566
.450
1.016
544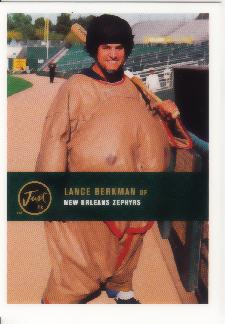 2000 Just Minors #108
And of course, this all has quite a bit to do with the era in which he's played, but Berkman is also one of only three Astros with 1000+ ABs to maintain a .900+ career OPS (at least through November of 2006, when this page was last revised):
.900 + Career OPS as an Astro
Through 2003
Player
SLG
OBP
OPS
AB
Moises Alou
.585
.403
.988
1551
Lance Berkman
.567
.416
.983
3687
Jeff Bagwell
.540
.407
.948
7797
The Astros' page on Berkman
Click here to go back to Astroland