Jim Beauchamp: All or Parts of Nine Years Of Service in the Astros Organization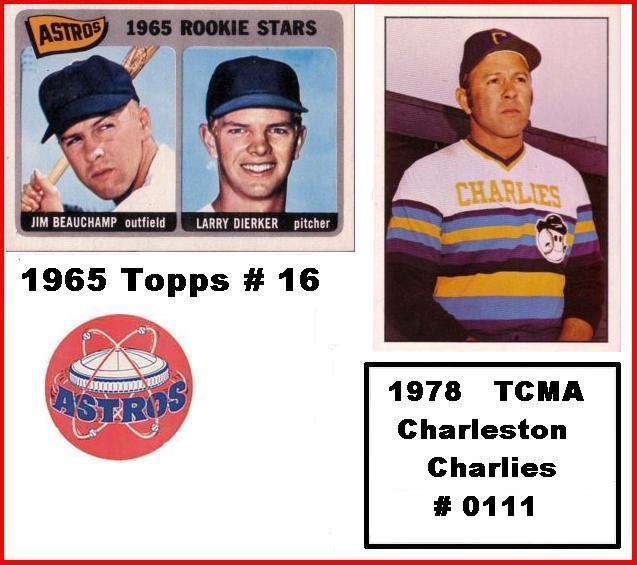 From the 1976 Memphis Blues Game Program:
Beauchamp: A Proven Winner
Memphis Blues skipper Jim Beauchamp has been a manager for just one year, but he's already proven himself a winner.
Beauchamp, like the late, legendary Vince Lombardi, knows winning isn't everything, it's the only thing. [How horrible can you get? -- ed.]
In his first managerial season last year, Beauchamp piloted the Houston Asrtos' Double A farm club at Columbus, Ga., to a secondplace finish. For some of his players that was a unique experience.
"You can't expect a player to win in the big leagues unless he's won in the minors," Beauchamp notes. "I had some players tell me after the season was over that last year was the first year they've played on a winner since they signed a professional contract."
Just to prove last summer wasn't a fluke, Beauchamp guided a team in winter ball to a second place finish, winning the last 11 games to earn a playoff berth.
"I learned about winning when I was in the Cardinals' organization," explains Beauchamp, who also played for Houston, Atlanta, Cincinnati and the New York Mets. "I don't care if the players like me or not, but I do demand their respect.
"When they get to the park they're going to give me 100 percent. If they don't they're going to be in trouble.
Denny McLain (Blues general manager) has worked hard
to get people out to the park and we're going to work hard to entertain them when they get here.
If Beach, as his friends call him, can continue to turn out winners, he may follow in the footsteps of the two managers who preceded him in Memphis--Karl Kuehl and [1965 Cocoa Rookie Astros and 1966 Cocoa Astros manager] Joe Frazier.
Kuehl, who managed Memphis the last two seasons when the Blues were affiliated with the Montreal Expos, is now the Expos manager, while Frazier is the new Mets boss.
Should Beach some day earn a big league job, one of the first people he'll thank will be former Cardinal great Ken Boyer, now the manager at St. Louis' Triple A farmclub in Tulsa.
"Kenhelped me tremendously," recalls Beauchamp, who was a player-coach under Boyer two years ago. "He knew I wanted to get into managing some day and some nights he'd come out and say, 'Here, you make out the lineup. You manage tonight.' "
Beauchamp, whomakes his offseason home on his 180-acre ranch at Grove, Okla., is married and has two sons and a daughter.
Jim Beauchamp's Playing Statistics in the Houston Organization

| | | | | | |
| --- | --- | --- | --- | --- | --- |
| Season | Team | League | AVG | HR | RBI |
| 1964 | Houston Colt .45's | National | .164 | 2 | 4 |
| 1964 | Oklahoma City '89ers | Pacific Coast | .285 | 34 | 83 |
| 1965 | Houston Astros | National | .189 | 0 | 4 |
| 1970 | Houston Astros | National | .192 | 1 | 4 |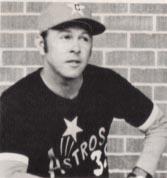 Jim Beauchamp, slumming during his tenure as manager of the 1975 Columbus Astros
Jim Beauchamp's Managerial Statistics in the Houston Organization

| | | | | | |
| --- | --- | --- | --- | --- | --- |
| Season | Team | League | Wins | Losses | Placed |
| 1975 | Columbus Astros | Southern | 70 | 64 | 2nd |
| 1976 | Memphis Blues | International | 69 | 69 | 3rd |
| 1977 | Charleston Charlies | International | 78 | 62 | 2nd |
| 1978 | Charleston Charlies | International | 85 | 55 | 1st |
| 1979 | Charleston Charlies | International | 65 | 74 | 6th |